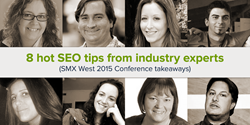 (PRWEB) March 18, 2015
Link-Assistant.Com, the leading SEO software provider and the company behind SEO PowerSuite, is committed to keeping pace with the evolving SEO industry and adapting their software in accordance with the latest industry trends. On March 3-5, 2015, SEO PowerSuite team visited Search Marketing Expo West, to network with the industry peers and to discover the most up-to-date practical tips and techniques. Today the company published a summary titled '8 freshest tips from the industry experts' to share the valuable experience with SEO PowerSuite users.
*What's hot in the SEO industry*
1. Keyword research is now mostly about search intent and customer profiling.
2. The technical side is important when it comes to Panda.
3. With HTTPs announced as a ranking signal, it's important to check the validity of ones' certificate.
4. There's an officially good removal practice for 404 response code errors.
5. Sitemaps are still crucial, and you should keep them clean.
6. Mobile friendliness is a ranking factor now. So, it's not an option any more, and one needs to be aware of a few important facts about the algorithm.
7. With user behavior becoming a strong ranking signal, the future of SEO might be about sending fake users to websites.
8. Link penalties vary, so webmasters need to differentiate between the different types before they take actions.
These takeaways are based on the presentations delivered by Mindy Weinstein of Bruce Clay, Inc., Kate Morris of Outspoken Media, Ehren Reilly of Glassdoor, Garry Illyes of Google, Duane Forrester of Bing, Marie Haynes, Sha Menz of Rmoov and Rae Hoffman of PushFire.
The complete SEO PowerSuite's guide on key takeaways from SMX West 2015 is available at http://www.link-assistant.com/news/smx-west-2015.html.
About Link-Assistant.Com
Founded in 2005, Link-Assistant.Com is a technology company with a focus on developing dedicated internet marketing tools. In addition to the well-known SEO PowerSuite, Link-Assistant.Com has also developed BuzzBundle, social media management software. Users can follow Link-Assistant.Com on Facebook fb.me/LinkAssistant, Twitter @LinkAssistant or Google Plus gplus.to/LinkAssistant and stay updated on the latest SEO PowerSuite and industry news.