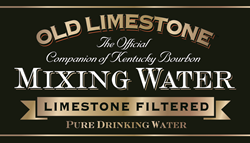 "The wrong water spoils a $60 bottle of bourbon."
Louisville, Kentucky (PRWEB) March 19, 2015
The explosive growth of bourbon has spawned yet another new product. Limestone filtered spring water bottled in Kentucky. Not only is it drawn from the same aquifer used to make bourbons in Kentucky, but in taste tests, Old Limestone recently took Gold at the 2015 North American Bourbon and Whiskey Competition in Denver, Colorado.
"It's long overdue," said CEO and founder Douglas "Doug" Keeney. "A little water brings out the flavor of any bourbon but the wrong water can change it and wreck a $90 bottle. Old Limestone filtered spring water is the perfect next step for the bourbon industry because it's the same water distillers use. Kentucky is the only place in the world with these underground limestone springs. Water percolates through these rocks giving you a rich, velvety smooth water with no iron, which would turn a bourbon mash black. That's why the bourbon industry flourished here and that's why it's time for a true mixing water. It brings out the flavor of your bourbon when you use Old Limestone for your ice cubes, or when you pour a bourbon with a splash. In taste tests, bourbon lovers overwhelmingly preferred Old Limestone to ordinary water."
Like all waters drawn from Kentucky's aquifer, Old Limestone has hints of magnesium and calcium for a velvety-smooth mouth feel, and no iron in it all, which is an essential requirement for bourbon distillers. But these waters are also why Kentucky is known for its thoroughbred farms. Even Queen Elizabeth sends her horses to Kentucky. Limestone waters build strong bones in horses.
Old Limestone launched in one liter bottles but recently added 12-ounce "tailgaters" for smaller bourbon tastings, polo matches, picnics and tailgating. The company recently announced plans to introduce a premium bottled product for Macau, Dubai, and other outlets. "We recognized that the bar is a visual space and a plastic bottle isn't always what an owner wants to show. Plus, bourbon has such an international following -- spring waters from Kentucky are the perfect next step for bourbon and represent a true international opportunity."
Old Limestone us available at select retailers in Kentucky and online at amazon.com.
"Give us a call. We're looking for distributors and quality retail outlets to help us grow."