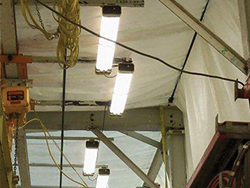 Hamburg, New York (PRWEB) March 19, 2015
KH Industries, the leading U.S. manufacturer of industrial grade lighting and power products, has introduced 3200 and 7200 Lumen LED Quad Lights. These intensely bright, US-made lights feature a low amperage draw, allowing up to 20 LED Quad Lights to be strung together for continuous job site temporary lighting.
The Quad Light is known for its durable design which allows for continual use in rough service areas. The Quad Light's durable design includes lamp shock absorbers, rubber end caps, and impact-resistant LED bulbs that protect against breakage from accidental drops and falls.
See how durable the Quad Light is with our extreme product testing video on You Tube, Watch now!
With a variety of mounting options, including hanging vertically or horizontally, the lights are often attached to scaffolding during construction, maintenance, repair, and overhaul work.
Contact KH Industries for more information, including available models and pricing.
Phone: 716-312-0088
Email: info(at)khindustries(dot)com
KH Industries is the leading U.S. manufacturer of industrial-grade portable lighting and power products for the aviation, utility, fleet, construction, chemical, petroleum, marine, and agricultural industries. KH Industries is located in Hamburg, New York.