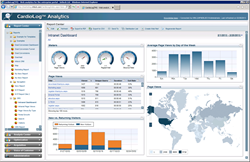 Boston, MA (PRWEB) March 18, 2015
CardioLog Analytics, a Microsoft-certified gold partner for SharePoint reporting and analytics remains the clear market leader in SharePoint reporting for 2015. As the second quarter of the year wraps up, CardioLog Analytics remains dedicated to providing innovative, tailored solutions to assist organizations in their SharePoint and Social reporting initiatives.
As a leader in the field of SharePoint analytics since 2005, Intlock, developer of CardioLog Analytics has vast experience in understanding the needs and requirements specific to SharePoint portals. CardioLog Analytics gives enterprises, small to medium size businesses, governments, and many more organizations deep insights into the performance of their web and portal initiatives through testing and tracking and targeting, ultimately enabling them to optimize their site's impact and maximize their return on investment.
CardioLog Analytics Features You May Not Have Known About:
•Analytics for Social Platforms (Yammer and Sitrion) - If you're employing Yammer or Sitrion, CardioLog Analytics is there with you every step of the way. The solution allows you to look into who is creating content, collaboration and engagement buzz on Yammer and Sitrion, and who's in need of additional guidance or training.
•CardioLog Analytics On-Demand (For Enterprises and SMB) - The team at CardioLog Analytics understands the need for a solution that is user friendly and easy to maintain. That being said, the On Demand, SaaS based solution is the exact answer for all of your SharePoint analytics needs. If you're looking to eliminate system maintenance costs and reduce setup time, this feature will make your SharePoint analytics experience much simpler.
•Video Tracking for SharePoint- It's no surprise that videos have become one of the most popular means of distributing information and content across the SharePoint Portal. CardioLog Analytics is now offering analytics for videos within SharePoint. These new reports are compatible with any video player, are user-friendly and can be customized to meet your organizations needs and expectations.
Useful links:
-Nordson Case Study
-Webinar on 4/1/2014- SPFest Webinar: Analytics for SharePoint Online. Sign up.
-How is Yammer Integrated into SharePoint? Blog Post
About Intlock
Intlock was founded in 2005. Ever since, it has been a leader in analytical solutions for SharePoint Intranets and Internet websites. As the company's flagship product, CardioLog Analytics set Intlock apart and put it ahead of the competition. CardioLog provides organizations with insights on how their SharePoint portal is being used, and helps optimize the portal. As organizations started to expand, so did the use of SharePoint to public facing websites. A demand grew for marketing tools designed for SharePoint, which lead to the release of the SharePoint Marketing Suite, which includes a wide range of marketing solutions for enterprise-level websites.
Today, Intlock products support all of the SharePoint versions, including the new 2013 edition. They offer a variety of insightful features and tools to help optimize portal and site productivity, as well as maximize the ROI.
Intlock, based in Boston, Massachusetts, has offices and partners throughout the world. Some of the customers utilizing these products are large worldwide enterprises such as Applied Materials, Fidelity Investments, and US Department of State. Intlock also offers a variety of packages for small business and NGO's.
For more information about this topic, please contact James Wright at +1-617-500-8461 (US) or email info(at)intlock(dot)com or james(dot)wright(at)intlock(dot)com.