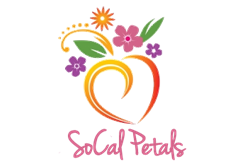 Los Angeles, CA (PRWEB) March 19, 2015
Peachtree Petals, a recognized leading nationwide florist, specializing in premium floral arrangements and floral decor services, announces the launch of SoCal Petals -- a new web site for Los Angeles same-day flower delivery. The Los Angeles florist makes the announcement in efforts to market its new online floral shop, expand its client base, and improve sales with an enhanced online floral shopping experience. SoCal Petals strives to be the superior choice in high-quality and custom-designed floral arrangements in Southern California.
SoCal Petals' new site has been strategically designed to be user-friendly and easy for an enjoyable online floral shopping experience. Within the site, SoCal Petals offers a wide range of categories created to assist customers in finding the most suitable floral arrangements for their event or occasion. From arrangement types and floral collections, to assorted gift baskets and daily specials, SoCal Petals has an array of floral selections and assorted gifts to choose from.
To meet specific budgets in mind, each of SoCal Petals' stunning arrangements range in size and bouquet pricing levels. When the holidays arrive, the SoCal Petals' site will also provide specific holiday bouquet categories, including Mother's Day flowers, Christmas arrangements and much more. SoCal Petals new site is created to assist shoppers to make their best floral decision simple, as well as fast floral order checkout.
SoCal Petals has become so popular, not only for its premium floral bouquets, but also for its signature same-day delivery. Same-day delivery is only $11.99 and next-day delivery for $13.99. The Los Angeles florist delivers to multiple cities within the Orange County area, including Los Angeles, Santa Monica, Long Beach, Bel-Air, Inglewood, Westwood, Encino, Hollywood, and more.
Peachtree Petals is a well-known leader of superior floral arrangements and a recognized FTD Master Florist nationwide. For the best flowers in Los Angeles, SoCal Petals services a growing list of clients, including company floral subscriptions and weekly floral services. The company offers a simple approach to the floral industry, most notably, same-day delivery of all their floral arrangements in Southern California areas.