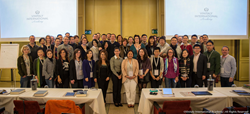 It gives me the greatest satisfaction to finally welcome them to share our passion for Italian wines in the most rigorous way possible.
Verona, Italy (PRWEB) March 18, 2015
In a beautiful Seventeenth-century villa between Verona and Lake Garda 55 candidates from 16 different countries around the world are following in these days a four day intensive course to become either Italian Wine Ambassadors or Italian Wine Experts, the two certification levels offered by Vinitaly International Academy (VIA) with the aim of further promoting the amazing diversity and quality of Italian wine around the world.
A great number of Certificate hopefuls came from Asia with a grand 14 flying in from Mainland China together with 8 other candidates from Hong Kong, thus testifying the growing interest in Italian wine that is gradually spreading across the Far- East.
This first edition of the VIA Certification Course, held by famous wine expert and Scientific Director of VIA Doctor Ian D'Agata, could also count on the presence of 4 wine experts from Korea and 2 from Singapore. Even the only candidate from far-way Australia did not back away from the long trip to Italy showing unperturbed enthusiasm upon her arrival. Moving Westwards, the American continent counts 2 candidates from Brasil, 14 from the US and 5 from Canada with an interesting mixture of trade professionals, top wine educators as well as consultants and wine writers. Moving back closer to Italy and Verona, where the course is now being held, we have the remaining 12 candidates each practically representing a different country in Europe: Germany, Ukraine, Austria, Netherlands, Uk, Greece, Sweden and, the largest group of all from Russia.
But let the candidates speak for themselves: https://www.youtube.com/watch?v=a5tf04giNi8&feature=youtu.be
The great variety of their provenance is also reflected by the different types of job titles and areas of expertise with a good 20% already "Master of Wine" students of the Master of Wine Institute in London, whilst another 20% are chief sommeliers or general managers of prestigious international hotels and restaurants (Hayatt, Four Seasons and Shangri-Là among others). All, of course, with at least one thing in common: an outstanding and enthusiastic passion for wine.
"Being in the wine industry and meeting people with the same addiction to tasting wines as me is just great" is one of the many eager comments made by the candidates in these days of intensive course, often backed up by positive feedback on both the course itself and the location.
Several students have been expressing some concern about the final exam that will be held on Friday with a 100 multiple-choice question test and a minimum passing grade of 75/100 necessary to become Italian Wine Ambassadors. Candidates who pass with 90/100 will be able to hold the oral exam consisting in two separate questions and a blind tasting of 10 different wines. At this point they will have to wait until the press conference of OperaWine, meaningfully entitled "OperaWine meets Vinitaly International Academy" during which there will be the official announcement of all students who, having passed the oral exam, have finally become Italian Wine Experts. As such they will be able to hold courses in their country of origin and contribute to the formation of future IWA and IWE students.
"I've been working on this project for the past three years, scouting many of the 55 candidates personally in each territory without spilling the beans until now" says Stevie Kim, Managing Director of Vinitaly International and one of the two great minds behind the entire project. "It gives me the greatest satisfaction to finally welcome them to share our passion for Italian wines in the most rigorous way possible. I'm thrilled to unveil the Experts in a few more days. I want to introduce them to every single Italian producer from Trentino-Alto Adige to Sicily. Most of them are high - profile professionals with a busy schedule. Of course not all of the 55 candidates will be certified as our Italian Wine Expert, but in my mind each one of them is already our Italian Wine Ambassador as attested by their passion and interest in Italian Wines."
To see the profile of each candidate you can visit http://www.vinitalyinternational.com/via/candidates