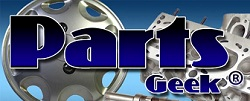 (PRWEB) March 20, 2015
An article posted March 6th 2015 by Automotive News indicated that Fiat Chrysler Automobiles is recalling nearly 800,000 vehicles due to a problem with their ignition switches. One of the two vehicles mentioned in the article is the Chrysler Town & Country model. The recall also affects those Chrysler Town & Country models that were manufactured between 2008 and 2010. Drivers who bring their Town & Country in to have the recall fixed may find themselves with other issues or parts that need to be repaired or replaced. Instead of having the dealership do the work, Town & Country owners can opt to purchase a part from Parts Geek and install it themselves. What's more, Parts Geek has recently updated their Chrysler Town & Country inventory to feature over 11,000 products.
Some of the top-selling auto parts and accessories that Parts Geek offers for the Town & Country model include window motors, fuel pumps, brakes, headlights, wheels and mirrors. Also, aside from offering auto parts for the 2008, 2009 and 2010 model years, drivers will find that they also offer parts for the 1941 Chrysler Town & Country as well as the 2015 model. Last but not least, Parts Geek is a company that prides itself not only on offering high-quality products, but many products that are available for up to 80% off their retail prices. Right now, those who visit their Chrysler Town & Country page will find that they have an Action Crash brand headlight on sale for a low price of $40.98.
Even though Parts Geek is a company that places an emphasis on providing quality parts, they are also focused on providing 100% customer satisfaction. With 696 reviews for their Town & Country products, there is little reason why any person would be dissuaded from making a purchase. Here is what a recent reviewer had to say about the replacement Action Crash Mirror he purchased: "I accidentally damaged this item on my rental car and did not want a claim against my insurance. The shipping was great, within 5 business days and it was a match, except for the back plate, which did not matter in my case. It was a great option and Partsgeek.com has me hooked."
To check out their updated Chrysler Town & Country inventory and to read more reviews, please visit their website today.
About Parts Geek:
Parts Geek offers an extensive line of auto parts, performance accessories, and part applications. While focusing on providing the largest supply of replacement parts, Parts Geek also provides the lowest prices on all new, OEM aftermarket and performance parts and accessories. Online, visitors will find an extensive catalogue of new and used parts for all domestic and imported cars and trucks. Since 1996, Parts Geek has been offering customers complete satisfaction with their high quality service. The company's main office is located in Marlton, New Jersey. The main office is open Monday through Friday, from 9 am to 6 pm, and Saturday from 9 am to 3 pm.
To hear more about the company, please visit http://www.partsgeek.com.