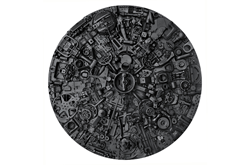 "The individual objects and the marks they make coexist"
Atlanta, GA (PRWEB) March 19, 2015
Bill Lowe Gallery presents Reliquaries for the Machine Age, a show that explores Daniel Motz's rein visioning of discarded mechanical parts into intricate assemblages. Motz emigrated to the U.S. from Arad, Romania in 1978 and went on to receive his MFA in Motion Picture and Television at UCLA in 1984. For these unique assemblages Motz has collected the detritus left in the wake of our technological progress. These assemblages serve as an archeological record of where we've been and who we were shaped by the bits and pieces of machinery that surrounded our daily lives. Motz has taken that sense of history and turned it on its head by reconstructing them in such a way as to evoke the sense of future worlds and modernized cities. Most assemblages are finished with a matte black spray that unifies the culturally disparate and obsolete fossils into a singular piece designed to hold the ruin of our mechanical past in a beautiful reliquary.
These pieces are quiet, powerful and masculine with their solid, ordered presence but the anthropological quality of each piece broadens their appeal to all seeking discovery of the past identities of elements woven into the assemblages. The viewer gets a sense that these objects, which are sourced from typewriters, movie projectors, film cameras, reel to reel tape decks, bicycles, vacuum cleaners, household appliances, photo enlargers, printers, etc; have somehow been rescued from the graveyard of the landfill.
"The individual objects and the marks they make coexist" – Motz
Motz elevates components that were designed and mass manufactured to produce a very minute bit of work for a very specific function. He allows these cogs, springs, wires, metallic and plastic minutia to transcend their former intended lives and encourages them to flourish as elements of art. Each piece makes a mark, creates a moment, and in a way that it could never communicate with the former user, it speaks to the viewer.
These shrine-like assemblages feed our digital minds with nostalgia for the mechanical past.
-
ABOUT BILL LOWE GALLERY:
BILL LOWE GALLERY has for a quarter of a century ranked as the south's pre-eminent contemporary gallery. It sanctions a vigorous advocacy of potent primary and alternative voices in art.
The gallery represents artists from around the globe who share powerful and eloquent visions supported by a highly advanced mastery of their media. The visceral emotionality and sheer physicality of its work lends a highly theatrical flavor to the gallery's offering. Thematically, the gallery's aesthetic is characterized by a metaphysical yearning articulated by process and imagery which is strongly psycho-spiritual and psycho-sexual in nature.
Share and engage with the Bill Lowe Gallery on Instagram (@billlowegallery), Twitter (@billlowegallery) and Tumblr (@billlowegallery) via hashtags #Reliquaries #MotzMachineAge #lowegallery.