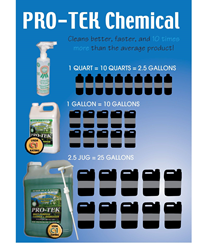 (PRWEB) March 19, 2015
Pro-Tek Chemical is releasing a promotion for the Spring! We all know spring cleaning is just around the corner, and what better way to jump start than with some Pro-Tek Cleaner. Order any size of Pro-Tek and receive a complimentary quart of Clean Zymes in the process. The promotion is scheduled while supplies last.
The company has done promotions like these in the past, but none with their highly concentrated Clean Zymes formula. This widely acclaimed cleaner is great for pets! Cats and dogs alike, this specialized formula cleans with 40 million enzymes. It is a multi-faceted stain remover and deodorizer, perfect for those little messes that your pets may leave behind. Not only is it super-high functioning on blood, urine, feces and pet odors but it works on a number of other spills too. Some of which are coffee, tea, wine, ink, juice, cosmetics and much more. Best of all, Clean Zymes, like many other Pro-Tek formulas, is perfectly safe to use around your pets. It is a non-toxic but very efficient formula that gets the job done. This product can also be used as a pre-spot treatment prior to shampooing carpet or laundering textiles.
Clean Zymes usually retails for $16.00, so it is a great deal for old patrons as well as introducing our products to new Pro-Tek customers. The free quart of Clean Zymes will come with any purchase of Pro-Tek Cleaner. Many customers have been very pleased with our formula. Sandy Miller happens to be one of our happy customers who was introduced to Clean Zymes and decided to go out and buy her own bottle. "My cat [vomited] on the carpet and I could not get the stain out using Resolve," Miller explained. "I found a bottle of your product at my mom's house and it really worked!"
Clean Zymes is formulated as a 4-strain biological organism treatment that actually digests protein and organic stains with active bacteria produced enzymes. This is why it works so well with pet stains and odors.
Customers are assured that this coupon code is only valid for as long as supplies last. The online coupon code is SPRINGCLEAN. It must be in all caps for the code to work. Pro-Tek Chemical hopes that this promotion will encourage everyone to begin their Spring Cleaning surges, as well as send out a thank you to all of the valued customers. The all-purpose cleaner company is excited to see these complimentary one-quart bottles our amazingly supportive customers. This is just a small gift that Pro-Tek Chemical hopes will come as a delight to our followers. Participating in these types of promotions is the company's way of saying thank you to customers for their loyalty and sustenance.
More about Pro-Tek Chemical
Pro-Tek™ Cleaner was originally created over 30 years ago for the lumber industry to help remove pitch and sap from saws and clothing. Within a few months of its creation, people were using it for many other purposes and our company was born. Pro Tek Chemical is a green chemical solution that can be used on multiple surfaces. It is an all-purpose cleaner that is safe for the environment. The cleaner can be purchased at http://www.protekchemical.com.