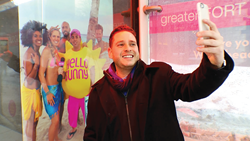 There is no better experience than actually being in the destination
Fort Lauderdale, FL (PRWEB) March 18, 2015
Starmark International, a full-service integrated communications agency, Warmed Up Boston and Chicago this winter by beaming the beaches of Greater Fort Lauderdale into first-ever, live broadcast interactive bus shelters.
With production and satellite crews working simultaneously in all three cities, the innovative integrated marketing extravaganza raised the bar into the stratosphere for the Greater Fort Lauderdale Convention and Visitors Bureau (GFLCVB. ) Award winning winter consumer activations for GFLCVB are a pillar of this long-term successful client-agency relationship.
Transforming street corners into bright yellow "Hello Sunny" branded beach cabanas, Starmark brought its own brand of "funshine" to the bus shelters in downtown Boston and Chicago that featured heat lamps, custom benches mimicking the iconic Fort Lauderdale Beach Wave Wall, and a digital monitor that played pre-recorded, brand video content and social feeds.
During the four weeks the bus shelters were in place, there were "live activation days" that allowed for two-way video and audio interaction via satellite broadcast between Fort Lauderdale, Boston and Chicago — a first-of-its kind in the United States, as well as street teams who engaged with winter weary commuters in and around the bus shelter locations throughout the month of February. These and other advertising efforts of the Hello Sunny Campaign have contributed to 62 consecutive months of increased hotel room revenues for Greater Fort Lauderdale, including a very sunny spring occupancy forecast.
During the live activations, unsuspecting commuters had the chance to talk in real time with Greater Fort Lauderdale "mascot" "Mr. Sunny," swimsuit-clad models and Nicki E. Grossman, president and CEO of the Greater Fort Lauderdale Convention &Visitors Bureau — who were all live on the beach in Fort Lauderdale under bright blue skies.
In and around the wrapped shelters, commuters were encouraged to take "selfies" with Mr. Sunny and share them with #hellosunny to be entered to win a beach escape. Those who interacted with Mr. Sunny received free Hello Sunny beach swag, and six free trips to Greater Fort Lauderdale were given away on the spot. Additionally, radio remotes in each city aired live coverage and street teams were on hand to engage passersby.
"There is no better experience than actually being in the destination," said Lisa Hoffman-Linero, Starmark's Chief Marketing Officer. "The brutal wrath of Mother Nature (record breaking snowfall and arctic temperatures in both Chicago and Boston) motivated us to deliver a little warmth and sunshine to our northern friends — right when they needed it most.
"We were able to create a memorable brand experience for consumers by providing a genuinely happy and unexpected surprise. We brightened their freezing commute and they gave us laughter and smiles," said Hoffman-Linero. "It's all about a positive brand experience. At the right, sometimes unexpected, place. At exactly the right time."
Through a partnership with Southwest Airlines, unsuspecting consumers were able to win free four day/three night trips including airfare and beach hotel accommodations to Fort Lauderdale. Two of the winners booked their trips the very next day.
Beyond the extraordinary consumer engagement during the promotional period, Starmark has launched a follow up social media blitz which features highlights from both cities.
To view the YouTube video from the events, click here
https://www.youtube.com/watch?v=1bmLbBO952s
###
About Greater Fort Lauderdale
From the seagrass to the sawgrass, Greater Fort Lauderdale boasts more than 34,000 lodging accommodations at a variety of hotels, luxury spa resorts, and Superior Small Lodgings reflecting a "beach chic" vibe. Visitors enjoy 23 miles of Blue Wave certified beaches, discover 300+ miles of inland waterways that run from the Intracoastal Waterway to the Everglades, dine at thousands of restaurants and eateries, get immersed in a thriving arts and culture scene and indulge in top shopping. For more info, contact the Greater Fort Lauderdale Convention & Visitors Bureau at (800) 22-SUNNY or visit http://www.sunny.org.
About Starmark International
Starmark International, Inc. is a full-service integrated communications agency, headquartered in Fort Lauderdale, FL, that serves clients nationally. The agency specializes in strategic thinking, award-winning creative, branding, advertising, interactive and public relations. Since 1978, it has partnered with world-class companies to build measurable results. Starmark delivers fresh perspectives and smart thinking to ignite clients' business. Then, reinvests the knowledge to maximize return. It's big ideas. Bottom line. For more information, visit http://www.starmark.com