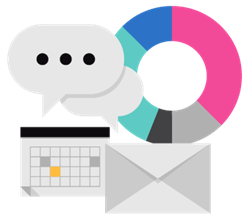 Seattle, WA (PRWEB) March 19, 2015
Recognized for helping salespeople sell more with less effort, sales software developer PipelineDeals announced today the introduction of Accelerator. Accelerator is an integrated email tool built into PipelineDeals' sales CRM that helps salespeople know what happens to their email after they click send.
"It's valuable to know when a lead has opened or clicked on content that we've sent to them," says Andy Hudson, president of Step Strategic Marketing and an early Accelerator adopter. "With Accelerator, my salespeople know when they have someone's attention and they can prioritize and personalize how to follow-up. Since we've started using Accelerator, we have cut our time to close by 25%."
Philosopher Seneca said that "luck is when opportunity meets preparation." More recently, legendary salesman Zig Ziglar replaced the word "luck" with "success." With the release of Accelerator, PipelineDeals helps improve a salesperson's luck by highlighting strong opportunities so that salespeople can focus on what they do best, selling.
Inspired by luck and St. Patrick's Day, PipelineDeals will be holding a contest to highlight "My Lucky Break" in business throughout the month of March. How has "luck" played a role in your business success and what was your lucky break?
Participants are asked to share their lucky break on Twitter, Facebook or LinkedIn using the hashtag #myluckybreak, or submit their response to marketing@pipelinedealsco.com and PipelineDeals will select the top-5 to be featured on their blog. Visitors will choose their favorite, and the grand prize winner on April 2 will receive a Gold American Eagle and two free tickets to Accelerate Sales 2015 in Seattle, WA on August 19 – 20.
About the Company: PipelineDeals is a sales CRM for entrepreneurs, built by entrepreneurs. Since 2006, PipelineDeals has delivered a simple and easy-to-use sales CRM that lets salespeople sell more with less effort. PipelineDeals is a Google For Work Premier Technology Partner and is a 2014 award winner for Highest Rated for Satisfaction in CRM from G2Crowd. The company is based out of Seattle, WA, and has offices in Seattle and Wayne, PA.