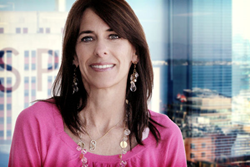 I'm looking forward to sharing insight, strategies and real client case studies that will provide a roadmap to marketing Local at the national level.
San Francisco, California (PRWEB) March 19, 2015
Digital marketing agency, Geary LSF, today announced that Karen Kovaleski, CEO, will be a featured speaker at BIA/Kelsey NATIONAL conference, which takes place March 25-27 in Dallas. Mrs. Kovaleski will participate as a keynote presenter providing the agency perspective on driving brand clients to 'localize' their marketing.
Karen Kovaleski has been a key figure in the national-local movement working with brands such as Bumble Bee Foods, WD-40 Company, Brooks Brothers, Ashley Furniture and more. During her keynote presentation, she will share key insights that Geary LSF has gained while helping their national clients succeed at the local level.
"It's an honor to be asked to present at this year's BIA/Kelsey NATIONAL Conference in Dallas, especially on the topic of national brand localization," said Karen Kovaleski. "The Local landscape is constantly evolving with the release of new innovations and products, making it challenging for marketers, and especially national brands, to stay ahead of the curve and remain relevant locally. I'm looking forward to sharing insight, strategies and real client case studies that will provide a roadmap to marketing Local at the national level."
In regards to the conference, BIA/Kelsey NATIONAL brings together the biggest names in national-to-local media and marketing. More than 300 leaders from brands, agencies, media and technology will be in attendance seeking answers to one central question: How do we pursue the rich opportunities presented by today's local digital solutions and the desires of national brands to reach the connected consumer at the local level? The agenda features more than 20 sessions and SuperForums that view local media and marketing through the perspective of national brands, agencies, franchises and multi-location businesses.
"Our NATIONAL program will showcase the industry's true innovators as we dig deep into the next areas of disruption in national brands marketing locally," said Conference Chair Peter Krasilovsky, chief analyst, BIA/Kelsey. "We are fortunate to have Karen among our featured speakers, and we look forward to her contribution to the conference program."
To view Mrs. Kovaleski's keynote abstract, the event agenda in its entirety, or register for the event, please visit the BIA/Kelsey website found here. To request a meeting with Karen during the conference, or for a discount code good for $200 off a conference ticket, please email marketing(at)gearylsf(dot)com.
About Geary LSF Group
Geary LSF is a full service digital marketing agency headquartered in San Francisco, with additional offices in San Diego, Chicago, Boston, Philadelphia and St. Louis. Specializing in an omni-channel marketing approach, the team turns digital ambitions into business results for more than 450 brands worldwide including: Bumble Bee Foods, Target, Ashley Furniture, Megapath, Aramark and several others. For more information, please visit http://www.gearylsf.com.
About BIA/Kelsey NATIONAL
BIA/Kelsey NATIONAL attracts a global audience of executive-level decision makers from across the local media landscape, including brands, agencies, media and technology, as well as advertising and marketing agencies, local digital media suppliers and sector-focused investors and financial analysts. For more information about the conference, including the complete agenda, list of speakers and companies attending, visit http://www.biakelsey.com/national/.