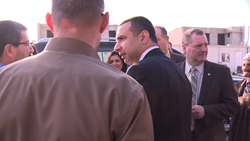 What is happening to the minorities at the hands of ISIS is the holocaust of our time.
TORONTO, Ontario (PRWEB) March 18, 2015
One Free World International (OFWI) is pleased to announce that their President and Founder, Rev. Majed El Shafie, has returned safely from the Kurdistan Region in Northern Iraq. Due to security concerns, the delegation, which included a Canadian Member of Parliament, Brad Butt, participating as an observer, was not previously announced.
The delegation departed Canada on March 1st and was in Kurdistan for several days, visiting refugee camps and meeting with government officials. As a result of donations and support, OFWI was able to purchase and deliver medication with a value of $300,000 at greatly reduced prices, which the delegation brought to a local hospital to be distributed to the refugee camps as needed. The OFWI team also met with the defense minister of the autonomous Kurdistan Region and the deputy speaker of the Kurdistan Parliament to discuss ways to continue to help the Christian and Yazidi refugees in the region.
In addition, El Shafie and cameraman Chris Atkins visited the front lines of the battle, about 200 meters from ISIS-controlled territory, in order to observe the situation firsthand and show support for the local troops putting their lives on the line to stop the advance of ISIS.
The members of the delegation were deeply impacted by the physically and emotionally taxing mission and by the experiences of the refugees. The stories of rape, torture and other abuse that continue to be told by those who have managed to escape ISIS are harrowing. One of the most disturbing aspects of the situation is that thousands of Christian and Yazidi girls are still in captivity where ISIS is using them as sex slaves. OFWI is involved directly or indirectly in rescue missions to save these girls.
"What is happening to the minorities at the hands of ISIS is the holocaust of our time," warns El Shafie. "ISIS forces are systematically eliminating all minorities through expulsion, forced conversion, slavery and killing. This is absolute genocide, and if the international community does not take action immediately, it will be too late."
El Shafie previously traveled to Northern Iraq in August 2014, with a high level delegation consisting of Members of the Canadian Parliament in order to stand with the Christians and minorities who continue to be targeted in the brutal campaign of violence by ISIS. The delegation saw for themselves the horrific situation that these people were facing and that they desperately needed help. Following his return from this mission, El Shafie was invited to testify before the Canadian Subcommittee on International Human Rights and the American Congress, regarding the situation in Iraq.
For interviews and media-related inquiries, contact Brian Mayes at 615-771-2040 or brian(at)nashvillepublicity(dot)com.
About Majed El Shafie
El Shafie has a unique voice, having once been arrested, tortured, and sentenced to die in Egypt for defending human rights and fighting for freedom of religion and the rights of minorities. He regularly testifies before the U.S. Congress and the Canadian Parliament and Senate, and he's a frequent guest on news outlets worldwide, including FOX News Radio, Glenn Beck, Mike Huckabee, Phil Valentine, Laura Ingraham, CBN News, CBC, Sun News Network, CTV News, American Family Radio and many more. He now resides in Canada and fights for those persecuted around the world through his human rights organization, One Free World International. Pressuring governments, and challenging both world and spiritual leaders, he has not been afraid to put everything on the line to help those in need.
About One Free World International
One Free World International is an international human rights organization which is one of the leading organizations advocating for religious minorities globally and has 28 branches around the world. For more information, visit http://www.onefreeworldinternational.org.