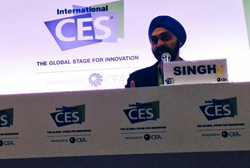 Conversations are an inextricable part of the local search market.
New York, New York (PRWEB) March 18, 2015
TalkLocal's president and co-founder, Manpreet Singh, will speak at the RBC Capital Markets Internet Stock-Tail tonight in New York City. His other recent speaking engagements include CES International and The Pacific Crest Technology Summit. TalkLocal also demoed at SXSW Interactive in the We DC House last weekend. Tonight's talk will explore trends in the internet industry before an audience of internet investment analysts from Morgan Stanley, Alliancebernstein, and more.
"Phone calls have to be a part of the discussion. Innovators have been ignoring phone calls, expecting them to fall out of fashion. Analysts know better; conversations are an inextricable part of the local search market," Manpreet explained.
TalkLocal is a local search marketplace that matches and connects businesses and consumers by phone and in minutes. Consumers enter their needs on the TalkLocal app or web form; then, TalkLocal's algorithm uses big data to match consumers to the right pros. It filters out companies based on location, consumer reviews, social media interactions, call analytics, and other quality indicators.
Matching businesses preview the lead for free and choose between taking the call, or passing the lead on to another quality business. In effect, the service turns online searches for area professionals into inbound calls in minutes.
From 2013 to 2014, small businesses saw a 24% spike in inbound call leads due to the increased use of mobile. TalkLocal is a high-tech alternative to traditional inbound call leads.
Prior to launching TalkLocal, Manpreet spent over 10 years covering local search technology investment stocks. He was employee #1 at Profit Investment Management, a DC-based firm whose $20 million-worth of assets he helped grow by 100x via stints in trading, marketing, research, investing, and operations. He has also been quoted and published numerous times by Bloomberg, Washington Post, Forbes, and other media.
TalkLocal raised $4 million in venture funding, has served in 49 states and recently marked its one millionth service request call. It offers 50 service categories like accountants, maidservice, and heating & cooling. Free to consumers, businesses only pay per conversation after a free lead preview and connect over a secure line to protect consumer privacy.
Connect on Facebook and Twitter.