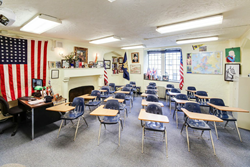 York Prep greatly values its inclusive, student-driven culture and strong stance against bullying.
New York, New York (PRWEB) March 19, 2015
York Prep, a co-educational New York City private school in Manhattan, this month launched a character-building program for its sophomore students. The new sophomore program – led by Evelyn Rowe-Cosentino, MA, LCAT, CGP, a licensed social worker and certified group therapist –is designed to equip students with coping tactics and life skills for personal growth and professional readiness when they enter college and the post-graduate world.The sophomore program is an expansion of the successful junior year program, which promotes healthy peer relations and teaches upperclassman how to be positive role models for younger students.
"York Prep greatly values its inclusive, student-driven culture and strong stance against bullying. Our goal is to create worldly, socially-aware students and members of society. We also want to provide a positive and supportive atmosphere for healthy self-expression within York Prep," said York Prep Headmaster Ronald Stewart.
Rowe-Cosentino leads several programs in addition to the sophomore character-building sessions. In 2009, Rowe-Cosentino developed a mentoring program for sixth through eighth grade students in which they read books and movies related to bullying and relate them to their lives, relationships and current events.
Rowe-Consentino also meets with students during their lunch and study hall periods to discuss life changes and issues specifically related to cyber bullying, conflict resolution and young girls' self-image. These sessions are kept confidential and give students the close-knit, open-forum discussion environment they need to discuss their concerns and observations about the world around them.
"We're very proud of our anti-bullying efforts and our work with students. With the advent of social media and evolving ways students struggle with bullying, we think it's extremely important that our character-building and mentorship programs exist. We want our students to know that this is an environment where they are accepted and heard," said Stewart.
Rowe-Cosentino began working as a consultant for York Prep in 2005 before joining the administration as the school's psychotherapist. She specializes in issues related to adolescent growth and conflict resolution and also has her own private practice. She is also a licensed creative art therapist and has had training in psychoanalysis. Her presence on campus is well-known to all students. They are always encouraged to meet with her to discuss their struggles and work closely together to develop plans for how they can manage their conflicts healthily.
"The mentorship and character-building workshops are educational and important but also fun and engaging. Students enjoy discussing their thoughts and feelings with their peers, and I enjoy watching them develop life-skills that will serve them well after they leave York Prep," Rowe-Cosentino.
For more information about York Prep, please visit http://www.yorkprep.org.
About York Prep
York Prep is a New York City private school on the Upper West Side, which was founded in 1969 by Ronald P. Stewart, a former barrister, and his wife, Jayme Stewart, author of "How to Get into the College of Your Choice: And How to Finance it." York Prep provides about 350 middle school and high school students, grades six through 12, with a rigorous college prep curriculum that is tailored to meet students' individual needs and play to their strengths. The school also has a thriving performance and visual arts program, boasts a strong athletic department and offers a wide array of student-driven clubs and extracurricular activities. Thanks to a tried and true college preparation strategy, 100 percent of York's students pursue higher education.
###