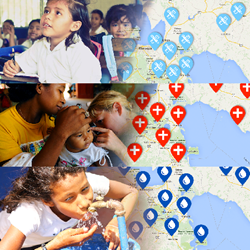 The platform will be robust enough for government bodies to manage wide-ranging aid efforts.
DENVER, CO (PRWEB) March 19, 2015
SiteWired Web Solutions, Inc., a Denver Web Design Company, has announced today the development of a web-based networking platform for Nicaragua Non-Profit Network to act as a centralized hub for collaboration and communication amongst aid organizations and government entities in the country.
Active non-profit and non-government organizations will share up-to-date campaign information with geographical data and work focus categories like medicine or housing. Initiatives in distinct regions of Nicaragua can increase awareness and cooperation by creating volunteer profiles and sharing project documentation. Members of the website will also have opportunities to highlight or find localities in need of specific aid programs.
Joseph Naccarato, President of SiteWired Web Solutions, Inc. explains: "The main challenge is accommodating users in vastly different conditions. The platform will be robust enough for government bodies to manage wide-ranging aid efforts. Individuals on the ground need similar tools, but their access to the Internet is limited in speed and availability."
Aid organizations and volunteers throughout Nicaragua currently rely on a mixture of e-mails, phones, and external social media to stay connected. Updates and announcements spread from region to region sporadically, if at all. Forming a clear picture of current or planned aid programs has become an obstacle for everyone involved.
The communication difficulties have led many groups to eschew collaboration in favor of isolated projects. This separation of aid often negatively impacts the efficiency of the programs. Volunteer physicians may reexamine previously treated patients with little to no information of medicines administered, and overlapping housing projects can upset the social balance of a small village.
The Nicaragua Non-Profit Network platform will help alleviate the heavy burden on aid coordinators and avoid common redundancies seen in the past. The anticipated June 2015 completion of the interactive database is expected to draw increased volunteer and aid organization activity into the country.
About SiteWired Web Solutions, Inc.:
SiteWired Web Solutions, Inc. was founded in 1998 as a full-service website design and development company to provide and maintain websites for clients ranging from small start-ups to Fortune 500 companies.
Based in Denver, CO, SiteWired services including online brand management and e-commerce solutions. It specializes in custom website design to create a new web presence for its clients. For more information on the services of SiteWired Web Solutions please visit http://www.sitewired.com.
Contact:
Joe Naccarato | President
SiteWired Web Solutions, Inc.
303-424-2522 | joe(at)sitewired(dot)com
About Nicaragua Non-Profit Network:
Since 2013 the Nicaragua Non-Profit Network (NNN) has worked to initiate an aid network within the country of Nicaragua. It is the mission of NNN is to provide a common sustainable platform where all non-profit organizations, non-government organizations, government entities, and individual volunteers helping Nicaragua can share knowledge, resources, experiences and even their resulting goals and accomplishments thereby leading to never before seen levels of inter-organizational communication, collaboration, and symbiosis. For more information please visit http://www.nicaraguanonprofitnetwork.org