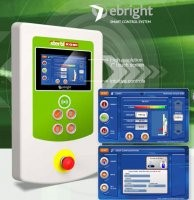 The ebright is one of the most efficient and safest lifting technologies available
Stevensville, Maryland (PRWEB) March 19, 2015
Stertil-Koni, the leader in heavy duty vehicle lifts– serving fleets, municipalities, transit agencies and the U.S. Military – today announced that the company will showcase its new "ebright Smart Control System" at the Mid-America Trucking Show (MATS) in Louisville, Kentucky, March 26-28 in booth 11140 at the Kentucky Expo Center.
Exclusively available from Stertil-Koni, the ebright Smart Control System consists of a seven-inch, full-color touch screen console on the company's wireless mobile column lifts, and provides intuitive, ease-of-use with maximum visual information about the lifting process – all at the fingertips of the person who needs it most, the busy technician on the shop floor.
In making today's announcement, Dr. Jean DellAmore, president of Stertil-Koni, noted, "We are a customer-centric organization fully dedicated to providing the most advanced, efficient and safest lifting technologies available. That's why the ebright Smart Control System, which we're proud to showcase at MATS, is so powerful. It extends the concept of human-machine-interface and provides a greater level of control in a very familiar, electronic notepad-style design."
About Stertil-Koni
Stertil-Koni, a brand of the Stertil Group, is the global market leader in heavy duty vehicle lifts – bus lifts and truck lifts– and is the preferred supplier to the world's leading companies in the truck and bus industries. Stertil-Koni's breadth of products meets all ranges of lifting needs and includes mobile column lifts, two-post, four-post, in-ground piston lifts, parallelogram lifts, half-scissors and its innovative axle-engaging, in-ground, scissor lift configuration, ECOLIFT. Stertil-Koni is also now installing DIAMOND LIFT across North America, a full rise telescopic piston lift designed to set new standards in precision heavy duty lifting. Stertil-Koni USA is headquartered in Stevensville, Maryland. Stertil-Koni has production facilities in Europe in The Netherlands, and in the USA in Streator, Illinois.