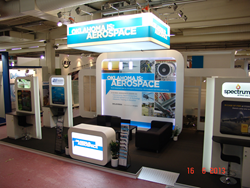 Absolute Exhibits now has a European office with architect/designers and a fabrication plant.
Tustin, CA (PRWEB) March 18, 2015
The International Paris Air Show will be presenting its 51st edition. This event, over a hundred years old, is the largest and longest-running aerospace trade show in the world. The United States will be represented by 350 companies. The last show in 2013 welcomed over 2,200 exhibiting companies, some 290 official high-level delegations and 139,000 trade visitors from around the world.
Absolute Exhibits, an exhibit builder, now has a European office with architect/designers and a fabrication plant. Working with a US based Absolute Exhibits account executive in native languages and at local hours relieves much of the stress of exhibiting overseas. Absolute Exhibits has built exhibits at the Paris Air Show for the past six years. Orders will be taken through May 8th this year.
The Absolute Exhibits' European team is multilingual and travels with clients to each show. Absolute Exhibits offers inventive and original trade show display solutions while continuing in a budget conscious approach. Working with Absolute Exhibits is beyond compare and that holds true with the company's European employees. Every project is fulfilled from design to installation in house. Current monetary exchange rates are quite favorable, and the reception for American services and products are in high demand outside US borders. A partnership with Absolute Exhibits Europe will make exhibiting in Europe a rewarding experience.
About Absolute Exhibits
Absolute Exhibits, established in 2000, rents and sells large custom exhibits at over 300 shows in the USA and in countries around the world. Absolute Exhibits is dedicated to providing distinctive marketing settings as well as pre-and-post show and event marketing and support services for our clients. At Absolute Exhibits every aspect of the exhibition project is handled using in-house resources and every question is answered in-house, as well. Absolute Exhibits is a true one-source exhibit house.