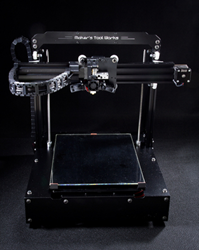 I purchased the MendelMax kit last year and was blown away
Oklahoma City, OK (PRWEB) March 20, 2015
Makers Tool Works, one of the premier makers of high quality kits for the 3D printer market, has released the latest addition to the 3D printer market - the MendelMax 3.
"We are excited to finally present a quality, affordable machine to the 3D printing market," said Mike Payson, Chief Designer. "The 3D printer kit market has been begging for a machine that can print for hours without breaking down. That is exactly what the MendelMax 3 brings to the table."
In recent years the 3D printer market has been growing throughout the world. Everybody from large businesses to hobbyists to space shuttle pilots are using 3D printers to build practical household and commercial items. For the first time in history, you can design any object your mind can imagine and then bring it to life in your own home or business.
The entire line of 3D printers from Makers has been receiving international praise. The durability of the MendelMax 3 and the support has made it a huge hit in the 3D printing industry. They are constantly using consumer feedback to improve every aspect of the product line and documentation.
"I purchased the MendelMax kit last year and was blown away," said a recent customer review. "The print quality was well beyond what I expected, being new to 3D printing, and turned out great models from the beginning."
Keep an eye on Makers, as they have several new developments planned in the coming months including:

A pre-built 3D printer kit to make getting started even easier for every consumer.
A reseller program that will allow partners to carry and distribute even more printers around the world.
For more details and to review their online 3D printer catalog, please visit their website at http://makerstoolworks.com.
===
About Makers Tool Works
Makers Tool Works has been a leading supplier of high quality 3D printing kits since 2012. Based in Oklahoma City, Makers is one of the few 3D printing companies that is run by true 3D printer enthusiasts and not a large corporation. They are passionate about creating quality machines that make the growing industry of 3D printing available to the consumer. Their attention to detail and fanatical support has made them a hit in the 3D printing community. For more information please visit their website at http://makerstoolworks.com.