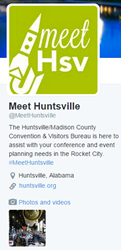 "Few places in the world can you host off-site events both underneath an authentic Saturn V moon rocket as you can at the U.S. Space & Rocket Center or gazing out at the beautiful Tennessee Valley atop picturesque Monte Sano Mountain," Judy Ryals said
Huntsville, AL (PRWEB) March 19, 2015
The Huntsville/Madison County Convention & Visitors Bureau has launched a meeting-oriented Twitter account, @MeetHuntsville, to promote the community as a meeting destination to strengthen relationships with national, regional and local meeting planners and to provide information on Huntsville/Madison County's unique meeting offerings via social media. @MeetHuntsville will complement the efforts of the Convention & Visitors Bureau's Convention Sales Team in recruiting new meeting business to the Rocket City as well as fostering relationships with current meeting planners.
"The @MeetHuntsville Twitter account will be another valuable tool in our arsenal to ensure we continue to regularly and openly communicate with meeting planners and let them know we want their business and we're here to assist," CVB President/CEO Judy Ryals said. "Few places in the world can you host off-site events both underneath an authentic Saturn V moon rocket as you can at the U.S. Space & Rocket Center or gazing out at the beautiful Tennessee Valley atop picturesque Monte Sano Mountain at Burritt on the Mountain's Baron Bluff."
The meeting and convention industry is big business in the U.S. In 2009 alone, it generated $115 billion to the U.S. economy, according to a study by the Convention Industry Council. The industry's economic impact is felt locally when groups such as the Gold Wing Road Riders Association brings more than 10,000 attendees to the Rocket City for Wing Ding 37 (September 2015) or the Association of the United States Army (AUSA) holds its Global Force Symposium (March 2015) with 6,000 attendees.
In 2014, the Huntsville/Madison County Convention & Visitors Bureau assisted over 1,000 conferences and meetings, providing over 228,000 promotional materials to visitors and traveled to more than a dozen trade shows and events to promote the area as a meeting destination.
Vice President of Conventions Bob Rogers explained that CVB efforts to recruit new business spans mediums. "From complimentary planning and coordination services to providing registration assistants to the new iHeartHsv.com blog and the @MeetHuntsville concierge service on social media, we're always looking for ways to get the word out about our community.
"Hosting a meeting in Huntsville is not only good for the local economy, it ultimately results in a great event for conference attendees," Rogers said.
Rogers touted the Von Braun Center (VBC) as one of the nation's best venues for conventions, meetings and trade shows as well as great fodder for the @MeetHuntsville Twitter account.
"With @MeetHuntsville, we'll explore the many reasons meeting planners should choose Huntsville /Madison County for their next meeting site. For example, the (VBC) charges no tax or gratuity, boasts 170,000 + sq. ft. of flexible meeting space and can accommodate everything from 13-ton Chinook helicopters to 18-wheelers within its walls," Rogers said. "True to the ideals of Dr. Wernher von Braun himself, if you can dream it for your meeting, chances are good that the VBC can make it happen."
According to the latest report from the Alabama Tourism Department, in the span of one year, the travel industry (including leisure and business travelers along with convention groups) pumped $997 million into Madison County's economy and was responsible for 14,255 local jobs.
For more information, please contact Jessica Carlton, Marketing Manager at the Huntsville/Madison County CVB, at jessica(at)huntsville(dot)org or by phone at 256.551.2294.
About Huntsville/Madison County CVB
The Huntsville/Madison County Convention & Visitors Bureau (CVB) is a non-profit 501(c)(6) organization which was developed in 1970 to create economic growth for Huntsville/Madison County by marketing the city as a top-of-mind convention and visitor destination. As the official city/county agency which promotes the area as a tourist destination and convention site, the CVB partners with an array of hospitality industry partners to market our destination to visitors of all types.
###