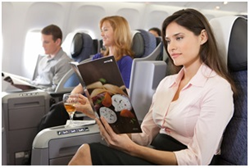 Humble, TX (PRWEB) March 18, 2015
Traveling to a far away destination means hours of being cramped up in a seat with the inability to move around much. Before boarding a plane for a long flight, it's important to consider one's health and know how to prevent possible dangers to it. Sitting for long periods of time causes a decrease in blood flow, and when the blood can't flow through the body and back to the heart the way it needs to, the inactivity can possibly cause a dangerous blood clot.
Medically known as deep vein thrombosis (DVT), a blood clot in a vein can develop in a person who goes for long periods without much movement. Contractions in the leg muscles help move blood from the legs toward the heart, only with normal movement. However, blood can pool in the veins when leg muscles are not contracting, raising the potential risk for the formation of a blood clot.
According to Dr. Madaiah Revana of Northeast Houston Vein Center, a DVT puts one at risk for a possible pulmonary embolism, a clot that travels from the legs to the lungs. Depending on the size and treatment of the blood clot, damage to the lungs can be minimal, but a large clot can be fatal.
Starting this month on all United Airlines flights in and out of Houston, a 90-second infomercial about Revana and his vein center will play to educate passengers about Venous Reflux Disease and DVT. Because of the extreme underdiagnosis, he decided on this channel of advertising because Houston is a major hub for traveling, and many people would be able to be reached.
"More than 30 million people suffer from some sort of complication in the veins, and given the common misunderstanding that vein problems are only a cosmetic issue, only 1.9 million of these people seek treatment," says Dr. Revana.
To lessen the risk of DVT and pulmonary embolism on long flights, it's important to maintain good blood circulation and these tips can help:
Dress appropriately: Blood circulation on long flights can be affected by what one wears. Tight fitted clothing can worsen the circulation and is also very uncomfortable after many hours of sitting. Wear comfortable clothing that fits well at all times, but especially when flying. Not wearing shoes that pinch the feet can also help the circulation process of the blood.
"I recommend the use of compression stockings on long flights, especially those who have a history of DVT or pulmonary embolism, because they have been shown to decrease the risk of blood clots in the legs on long flights and just sitting for long amounts of time in general," says Dr. Revana.
Although compression stockings may be intolerable to some people, the staff at the Northeast Houston Vein Center properly measure each and every individual patient, making sure that they get them true to their own size and as comfortable as possible.
Choose an aisle seat: Although the sizes of planes vary, the aisle seats do provide passengers with a little more space to move.
"It's helpful when passengers choose an aisle seat because they can elevate their feet when it's possible, lowering the risk of DVT," says Dr. Revana.
Keep active: To reduce the risk of developing a blood clot, travelers should move around as often as possible to get their blood flowing.
"Getting up and walking every two to three hours is essential to keeping the blood circulating within the body," says Revana. He encourages all passengers to walk around accordingly, even if they have never had blood clots before. "They should also drink plenty of fluids – enough to keep their urine clear."
Dehydration increases the risk of blood clots, so despite what Dierks Bentley's "Drunk On A Plane" lyrics suggest, alcohol is not the type of fluid one should be consuming.
Know the symptoms of DVT: Fliers should be aware of the symptoms of a blood clot. These include:

Leg Pain
Swelling, warmth, or redness in the leg
Chest pain (can be a sign that a blood clot has traveled to a lung)
Shortness of breath or difficulty breathing
Lightheadedness or fainting
In-Flight Exercises: Try these simple leg exercises that can help get the blood flowing during air travel and reduce the risk of developing a blood clot while flying:

Toe points. Stretch your legs out as straight as possible in front of you. Alternate pointing your toes down toward the floor and then up toward the ceiling.
Ankle circles. Stretch your legs out straight in front of you. Rotate your ankles, moving your feet around in circles.
It's recommended to do each exercise 10 times with each foot, and repeating them once every hour.
Take the opportunity to walk around the cabin as often as possible, and if you're reluctant to disturb the people sitting next to you, remember that it's best to stand up only every two to three hours. Offer to switch seats with a seatmate who doesn't want to get up as often.
Those who have or know someone who has experienced any of these symptoms or have any questions should call Northeast Houston Vein Center at (281)-446-4638, or visit the website at http://www.nehoustonveincenter.com. Those with travel plans in March, April, May, and/or June should be sure to look for Dr. Revana and his staff on video during the flight.
About Northeast Houston Vein Center:
The experienced physicians at Northeast Houston Vein Center offer comprehensive vein treatment in the Houston area. They provide the latest techniques and state-of-the-art equipment in the diagnosis and treatment of venous disease. Since its establishment in 1978, the medical professionals at Northeast Houston Vein Center have been dedicated to going above and beyond for their patients. Treatment options are minimally invasive and the outpatient procedures will allow patients to resume normal activities the same day. At Northeast Houston Vein Center, patients can imagine a life free of venous disease. For more information, visit their website at http://nehoustonveincenter.com/.