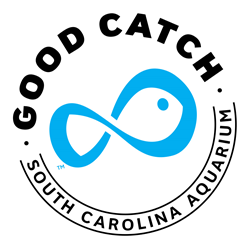 Charleston, S.C. (PRWEB) March 18, 2015
Spring is finally upon us here in the Lowcounty, welcome the warm weather by heading to SALT at Station 22 and enjoying a delicious and sustainable seafood feast on their patio. The restaurant will host the next South Carolina Aquarium Good Catch Dinner on Monday, March 30 starting at 6:30 p.m. The seaside evening will include a six course dinner and wine pairing designed by Executive Chef Charles Arena.
Offerings Include:

Shrimp crudo lemongrass and ginger broth paired with Primaterra Prosecco
Duo of little tunny including a spicy little tunny roll and tempura fried tunny paired with Michel Delhommeau Muscadet
Local clam and grapefruit salad with pancetta and frisee paired with Domaine Baron Sauvignon Blanc
Lemon and rosemary braised snapper with olives, roasted peppers, and dried oven tomatoes paired with Terre Stregate Fiano
Roasted snowy grouper with celeriac puree, kale and minus 8 vinaigrette paired with Backstory Chardonnay
Seasonal sorbet
As part of the evening guests will have the opportunity to experience delicious local fare as well as the scenic beauty of Sullivan's Island. SALT at Station 22 is located a short walk from the beach, making it a perfect place to enjoy a warm spring evening. Good Catch Coordinator Shelley Dearhart will be in attendance to inform diners how to make responsible and sustainable choices when ordering seafood and while preparing it at home.
Fast Facts:

The Good Catch dinner takes place Monday, March 30, at SALT at Station 22, located at 2205 Middle Street, Sullivan's Island.
The experience, including six courses with wine pairings, is $55 a person plus tax and gratuity.
Space is limited so call (843) 883-3355 today to ensure you get a reservation.
For all media inquiries, please contact Kate Dittloff at (843) 579-8660 or kdittloff(at)scaquarium(dot)org.
About South Carolina Aquarium Good Catch:
Good Catch generates awareness and leads communities in support of healthy fisheries and consumption of responsibly harvested seafood. The program pragmatically balances the health of the environment with South Carolina's demand for seafood by working with consumers and chefs, helping them make wise seafood choices to support healthy, abundant oceans. More than 115 restaurant partners have committed to serve and purchase sustainable seafood whenever possible and to avoid species that are immediately vulnerable to extinction. As a community, when we choose seafood from local, sustainably managed fisheries or dine at restaurants which do the same, we minimize our impact on the environment. Find the most up-to-date Good Catch partner list and more information on making good seafood choices each season at scaquarium.org/goodcatch.
About SALT at Station 22
Located at 2205 Middle Street in Sullivan's Island, SALT at Station 22 is sister restaurant The Boat House at Breach Inlet. SALT is the winner of the 2014 Open Table Diner's Choice Award and is famous for it's seasonal menu, as well as its year round sushi menu and raw bar. The menu only uses the freshest ingredients and there are always daily fish specials. The seaside building with open air patio is a Sullivan's Island staple, originally built in 1987 SALT is the building's newest occupant. SALT emphasis a commitment to continuing on with Sullivan's Island traditions while at the same time keeping their menu fresh and inventive.
About the South Carolina Aquarium:
The South Carolina Aquarium, Charleston's most visited attraction, features thousands of amazing aquatic animals from river otters and sharks to loggerhead turtles in more than 60 exhibits representing the rich biodiversity of South Carolina from the mountains to the sea. Dedicated to promoting education and conservation, the Aquarium also presents fabulous views of Charleston harbor and interactive exhibits and programs for visitors of all ages.
The South Carolina Aquarium, a 501(c) (3) not-for-profit organization and is open daily from 9 a.m. to 5 p.m. The Aquarium is closed Thanksgiving Day, half day Dec. 24 (open 9 a.m. to 1 p.m.) and Dec. 25. Admission prices are: Toddlers (2 and under) free; Youth (3-12) $17.95; Adults (13+) $24.95. The Aquarium plus the 4-D Theater experience is free for Toddlers, $22.95 for Children, $29.95 for Adults. The 4-D Theater experience only is $6.95 for Children and Adults, and free for Members. For more information call 843-720-1990 or visit scaquarium.org. Memberships are available by calling 843-577-FISH.
###