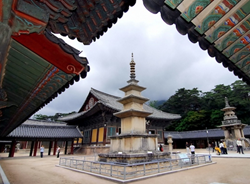 Korea has been inhabited for over 5,000 years, making it one of the oldest Asian civilizations. Travelers will encounter strong flavors of an ancient culture that influence the country's distinctive modern character."
Ann Arbor MI (PRWEB) March 19, 2015
Journeys International is proud to announce an expansion of its 60+ travel destinations with the addition of South Korea. The itinerary was carefully planned to include a unique combination of the country's traditions, culture and history; modern developments in cities such as Seoul; and the beautiful natural areas of Jeju. The first pre-scheduled trip departs September 28, 2015, although custom trips can depart any time.
"We are thrilled to have South Korea (referred to as Han'guk by natives) as a unique and timely addition to our line-up," said Robin Weber Pollak, President of Journeys International. "During your trip with Journeys, you'll cover many parts of the country, which is slightly larger than Indiana, and have a chance to explore the craggy mountains, breathtaking countryside, sandy beaches, and still waters that gave Korea her nickname, 'The Land of the Morning Calm.'"
When traveling with Journeys, travelers can expect a native Korean, fluent English-speaking personal guide who will offer rich days of learning, reflection, photography and cross-cultural interaction. Your guide will showcase South Korea's ancient culture, melding it with its modern developments. "Korea has been inhabited for over 5,000 years, making it one of the oldest Asian civilizations. Travelers will encounter strong flavors of an ancient culture that influence the country's distinctive modern character," Pollak added.
Highlights of the itinerary include:

Seoul, the capital and largest metropolis of South Korea, including visits to Gyeongbok Palace, the National Folklore Museum, and Jogyesa Temple, the main temple for the Jogye Order of Korean Buddhism
Andong, known as the center for cultural and ancient folk traditions, where visitors will marvel at the dynastic magnificence of Gyeongju's tombs, palaces and temples
Busan, South Korea's second largest urban center, with the beautiful Dongbaekseom Island boasting many dongbaek trees and evergreens
Jeju Island, with magnificent natural wonders including Hallim Park, Suwolbong Peak and the Sangumburi Crater
DMZ, which serves as a buffer zone between South and North Korea and provides a better understand of the history and fraught relationship between the two Koreas
To learn more about how Journeys can help you experience South Korea, visit JourneysInternational.com/SouthKorea or call 800-255-8735.
About Journeys International
Based in Ann Arbor, MI, Journeys International has been creating guided, custom and family adventures for international travelers since 1978. Family-owned and operated, Journeys International's private and small group trips emphasize cultural and environmental awareness, and family trips are designed with all ages in mind. Because of long-standing, unique and personal relationships with guides around the world, Journeys trips offer a superior experience that travelers won't find with any other travel company. http://www.journeysinternational.com.