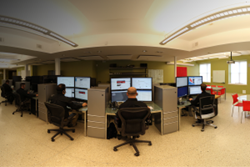 eMazzanti Technologies is closely associated with NJIT's corporate programs, having served as a sponsor of the NJIT Hackathon and other events.
Hoboken, New Jersey (PRWEB) March 19, 2015
eMazzanti Technologies, a NYC area IT consultant and MSP, announces the hiring of two recent graduates from the New Jersey Institute of Technology (NJIT). The additions to eMazzanti's staff will supplement the firm's experienced and certified IT engineers in their efforts to develop advanced business intelligence solutions, provide responsive proactive customer support, and to continue the company's 14 year record of double-digit annual revenue growth.
"Our skilled technicians come to eMazzanti with excellent training and an established work ethic," stated Jennifer Mazzanti, President, eMazzanti Technologies. "With these hires, NJIT shows its strength for delivering the credentialed computer science graduates that eMazzanti and our customers depend on for outstanding software development and managed IT services."
With experienced developers and Microsoft certified engineers on staff, eMazzanti increases their clients' competitiveness by creating enhanced business capabilities and outcomes. The development resource complements the network design, IT security, business continuity, implementation, and managed services offerings that eMazzanti's clients have depended upon since 2001.
eMazzanti Technologies is closely associated with NJIT's corporate programs, having served as a sponsor of the NJIT Hackathon and other events. NJIT's College of Computing Sciences (CCS) operates a Corporate Affiliates program intended to influence the evolution of CCS curricula, engage students and faculty in research activities of interest to affiliated companies, and provide students with experiences that will enhance their development into future corporate assets of affiliated companies.
Other related resource information:
eMazzanti Technologies Strengthens Customer Relationships by Signing Experienced Account Representative
eMazzanti Technologies Sponsors HackNJIT Hackathon at New Jersey Institute of Technology
About NJIT
One of the nation's leading public technological universities, New Jersey Institute of Technology (NJIT) is a top-tier research university that prepares students to become leaders in the technology-dependent economy of the 21st century. With an enrollment of more than 10,000 graduate and undergraduate students, NJIT offers small-campus intimacy with the resources of a major public research university. NJIT is among the top 1 percent of public colleges and universities in return on educational investment, according to PayScale.com.
About eMazzanti Technologies
eMazzanti's team of trained, certified IT experts rapidly deliver cloud and mobile solutions, multi-site implementations, 24×7 outsourced network management, remote monitoring and support to increase productivity, data security and revenue growth for clients ranging from professional services firms to high-end global retailers.
Serving more than 400 Hoboken, NJ, NYC area and international customers, eMazzanti has made the Inc. 5000 list five years running, is Microsoft's Partner of the Year and Northeast Region Partner of the Year and a 5X WatchGuard Partner of the Year. Contact: Carl Mazzanti 201-360-4400 or emazzanti.net Twitter: @emazzanti Facebook: Facebook.com/emazzantitechnologies.
Download the free article: How to Select an IT Provider here.