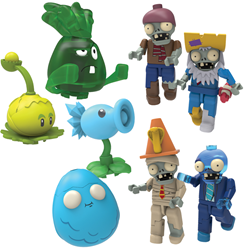 Bring Plants vs. Zombies to life with new building sets from K'NEX!
Hatfield, PA (PRWEB) March 19, 2015
Plants vs. Zombies™ fans can now build and play with even more characters from their favorite game with new licensed building toys by K'NEX®. PopCap Games, Inc., a division of Electronic Arts, and the creator of the popular gaming franchise, and K'NEX, the only U.S. construction toy company focused on Building Worlds Kids Love®, are pleased to introduce 2 new items to the first line of officially licensed building sets inspired by the Plants vs. Zombies games.
The relationship combines the award-winning K'NEX building system with your favorite Plants vs. Zombies characters, bringing them from the digital screen to the construction aisle for the first time. With the first game in the series winning over 30 Game of the Year awards, Plants vs. Zombies is a global brand that is popular across the U.S., Europe, and Asia, and appeals to male and female audiences ages 4 through 104.
The K'NEX Plants vs. Zombies 2015 product line includes:
Plants vs. Zombies: Mystery Figure Bags, Series 2
Collect favorite characters from Plants vs. Zombies! Each bag contains 1 mystery figure. Series 2 includes the following characters: Frozen Zombie, Prospector Zombie, Conehead Mummy Zombie, Pirate Zombie, Snow Pea, Bonk Choy, Infi-nut, and Cabbage Pult. Who will you get? Ages 5+. SRP $3.99. Available now on knex.com and at toy stores nationwide.
Plants vs. Zombies: Mummy's Tomb Building Set
Defeat the zombies...in Ancient Egypt! Includes a Ra Zombie figure, Bloomerang figure, and K'NEX parts to build a small Pyramid. Use your finger to flick the boomerangs out of the Bloomerang to defeat the zombie! Easy to follow building instructions included. Ages 5+. SRP $11.99.Available now on knex.com and at toy stores nationwide.
About K'NEX Brands
Founded in 1992, K'NEX Brands, the world's most innovative construction toy company, was established to make and sell what has become one of the world's leading integrated construction systems for children, and is America's STEM building solution. Winner of over 250 international awards and recognitions, K'NEX is focused on Building Worlds Kids Love® and encourages youngsters to "imagine, build and play." From the living room to the classroom, K'NEX has building toys specially designed for every age group and skill level. The K'NEX family of brands includes K'NEX Building Sets, K'NEX Thrill Rides, K'NEX Education®, Lincoln Logs®, Tinkertoy®, K-FORCE™, Mighty Makers™, Mario Kart Wii™, Mario Kart 7™, Mario Kart 8™, Super Mario™, PacMan™, Titanfall™, Family Guy™, Plants vs. Zombies™, and more. Since 1992, The Rodon Group®, a subsidiary of K'NEX Brands, L.P., has manufactured over 34 billion parts for the K'NEX building toy system. Join us as we help build the leaders of tomorrow. For more information, please visit http://www.knex.com or http://www.rodongroup.com.
About PopCap
PopCap Games is the leading global developer, publisher, and operator of casual video games: fun, easy-to-learn, captivating games that appeal to all ages across PC, mobile, social, and other platforms. Based in Seattle, Washington, PopCap was founded in 2000, was acquired by Electronic Arts in 2011, and has a worldwide staff of more than 400 people in Seattle, San Francisco, and Shanghai.
PopCap and Plants vs. Zombies are trademarks of Electronic Arts Inc.
###