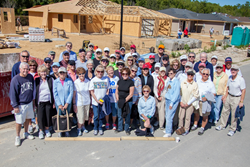 Naples, FL (PRWEB) March 20, 2015
On February 11, 2015, several buses left Grey Oaks Country Club filled with members, ready once again to build with Habitat for Humanity. Over the last five years, Grey Oaks' members have built over six new homes and helped to rehab several others.
Habitat Collier is one of the largest builders of any other Habitat affiliate in the U.S. They have now built approximately 1,740 homes in Collier County – building about 100 a year for the last decade. There is a tremendous need for affordable housing in Collier County. About ten families apply for every one home Habitat is able to build.
With tremendous support from Grey Oaks members, for the fourth year, Grey Oaks was able to leverage volunteer hours through the Community Contribution Tax Credit Program (CCTCP). The CCTCP is a state funded incentive to encourage businesses that collect and remit state sales tax to partner with those who provide affordable housing. Essentially Grey Oaks has been able to redirect more than $200,000 of the sales tax paid to the state to help fund Habitat homes here in Collier County.