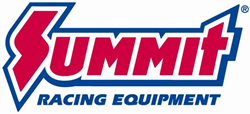 Tallmadge, OH (PRWEB) March 19, 2015
There are two basic ways to make a car go faster: Add more horsepower and reduce the car's weight. US Body Source makes all sorts of lightweight fiberglass body components—hoods, doors, quarter panels, even complete front ends and bodies—that can help shed some significant weight.
US Body Source designs and manufactures all of its fiberglass parts in the USA, so enthusiasts get a quality product engineered to hold up to the rigors of racing. Summit Racing carries a large selection of US Body Source products including:
Hoods and Hood Scoops
US Body Source makes two types of hoods. The heavy-duty fiberglass hoods feature 90 degree edges on both sides to help maintain fender contours and use OEM hinges and latches. The lighter race weight hoods are secured with hood pins or Dzus fasteners. Both types of hoods have full perimeter inner frames for strength. They have a black lacquered textured finish underneath and a sandable gray gelcoat exterior finish.
The fiberglass hood scoops have a white gelcoat finish. They are available in cowl induction, Pro Stock, Six Pack, and many other versions.
Front Clips and Body Panels
Summit Racing carries a large selection of complete front clips, quarter panels, doors, and other body panels for everything from Camaros and Mustangs to musclecars and trucks. The heavy-duty versions are ideal for racing or for building a street machine. Many panels are also available in a lighter race weight version to help shed even more pounds. All panels have a smooth white gelcoat finish.
Complete Body Shells
US Body Source body shells are molded as a one-piece unit with stiffening ribs in the firewall, roof, and quarter panels. Most do not come with floors or interior panels for easy installation on a tube-style race chassis. Some body shells are available with front ends and doors. Body shells currently available include:

1955 and 1957 Chevy two-door
1966-67 and 1970-72 Chevelle
1967-68 and 1970-72 Camaro
1964 Corvette
1965-66 Mustang fastback
1968-69 Plymouth Roadrunner
Willys Americar
American Bantam
Ford T-altered
427 Cobra
Summit Racing also offers a large selection of US Body Source truck cabs and beds, bumpers, dash panels, and more.
Summit Racing Equipment
http://www.SummitRacing.com
1-800-230-3030