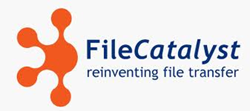 We are really excited to be part of the FileCatalyst Partner Pavilion at NAB this year
Ottawa, Canada (PRWEB) March 24, 2015
Unlimi-Tech Software, Inc., a pioneer in managed file transfers and the Emmy® Award winning creator of FileCatalyst, is pleased to announce they will be attending the NAB Show at the Las Vegas Convention Center from April 13 to 16, 2015.
With over 1700 exhibitors and 26,000 attendees, the NAB Show is the world's largest video, audio, and broadcast event serving the digital media and entertainment industries. FileCatalyst will be in attendance demonstrating their patented accelerated file transfer solutions in booth SL8505.
The team will be providing demonstrations of their latest product, FileCatalyst Direct 3.5, which along with improved stability and performance, will have the ability to save data directly to Amazon S3. The team will also be available to answer any questions and meet with attendees for one-on-one meetings to discuss individual file transfer needs. Attendees will also have a chance to win t-shirts and an Apple TV.
The FileCatalyst booth will offer a live demonstration of an end-to-end workflow solution, which will show how live sports production can benefit from accelerated file transfer by demonstrating how easy it is to have remote teams collaborate on live footage. Using MOG for ingest of both SDI and files, FileCatalyst will accelerate growing proxies in close to real time over a simulated WAN environment, provided by Apposite Technologies, into Avid MediaComposer.
In addition, the FileCatalyst booth will feature a speaking theatre that will host presentations from both FileCatalyst and some of their technology partners, such as Adobe and Telestream, every half hour from 10am to 3pm on April 13, 14, and 15, and from 10am thru 1:30pm on April 16.
FileCatalyst continues to grow their partner ecosystem and this year will feature a partner pavillion within their booth. Technology partners Cubix, Thinkbox Software, Cambridge Imaging Systems, Empress, Vidispine, and Scale Logic will each be on hand to demonstrate their software and showcase their integrations with FileCatalyst.
"We are really excited to be part of the FileCatalyst Partner Pavilion at NAB this year," said Tom Blake, CEO of Cambridge Imaging Systems. "We will demonstrate how FileCatalyst works seamlessly with Imagen to deliver an ultra-fast, secure, and reliable file transfer service to your Imagen platform,"
In addition, FileCatalyst president and co-founder, John Tkaczewski will be sharing his expertise in a session entitled "Network and Connection Issues Facing the Military and Government in the Transfer of Data", on Wednesday April 15 at 11:30am in meeting room S225.
"FileCatalyst is looking forward to being back in Las Vegas for NAB 2015," said Unlimi-Tech co-founder and CEO, Chris Bailey. "This year our booth is bigger than ever, and we have some surprises in store, so we encourage everyone to come by and visit us "
Prior to NAB, members of the FileCatalyst team will also be attending JB&A's pre-NAB Digital and Media Workflow event on April 11 and 12 at the Westin Las Vegas Hotel, as well as Avid Connect from April 10 to 12 at Caesar's Palace.
About Unlimi-Tech Software, Inc.
Located in Ottawa, Canada, Unlimi-Tech, a pioneer in managed file transfers, is the creator of FileCatalyst, an Emmy® Award winning accelerated file transfer solution. Founded in 2000, the company has more than one thousand customers in media and entertainment, energy and mining, gaming, and printing, including many Fortune 500 companies as well as military and government organizations. FileCatalyst is a software platform designed to accelerate and manage file transfers securely and reliably. FileCatalyst is immune to the effects that latency and packet loss have on traditional file transfer methods like FTP, HTTP, or CIFS. Global organizations use FileCatalyst to solve issues related to file transfer, including content distribution, file sharing, and offsite backups. To learn more visit filecatalyst.com or @FileCatalyst on Twitter.