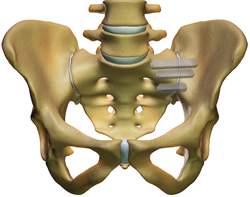 About 25 percent of patients with low back pain actually suffer from SI joint dysfunction. While it's difficult to diagnose, once it's identified, it can generally be treated very successfully.
Pittsburgh, PA (PRWEB) March 19, 2015
Allegheny Health Network is among the first medical centers in the nation to offer a new, minimally invasive surgical alternative for one of the most common types of back pain.
Surgeons at Allegheny General Hospital are using the iFuse Implant System to stabilize the sacroiliac (SI) joint. For many patients, chronic low back pain is caused by damage or wear and tear to the SI joint which joins the bottom of the spine to the pelvis.
"Low back pain originating from the SI joint can mimic pain caused by herniated discs, degenerative disc disease and other sources," said Michael Oh, MD, Chief of the Division of Functional Neurosurgery at Allegheny General Hospital. "About 25 percent of patients with low back pain actually suffer from SI joint dysfunction. While it's difficult to diagnose, once it's identified, it can generally be treated very successfully."
Symptoms of SI joint dysfunction include pain in the lower back, buttocks or thigh. Sacroiliac joint dysfunction is particularly common in women of child bearing age who have given birth as the ligaments surrounding the SI joint stretch to accommodate the growing baby and prepare for delivery. Other possible causes of sacroiliac joint dysfunction are repetitive lifting and twisting movements or traumatic events such as car accidents. It's also more common in patients who have already undergone disc fusion surgery.
It's difficult to diagnose because imaging techniques that are useful in pinpointing other causes of back pain aren't able to detect problems in the SI joint.
"This is a problem that isn't visible on x-rays" said Gary Schmidt, MD, an Allegheny Health Network orthopaedic surgeon who treats patients with the iFuse system.
To determine if the SI joint is the cause of the patient's pain, the medical team must perform a series of provocative tests, manipulating the patient's legs and applying pressure to different points on the body while the patient lies on his or her back or side. If the patient experiences symptoms during three of five tests, an injection in the SI joint is used to confirm the diagnosis. If the injection relieves the pain, even temporarily, the sacroiliac joint is the cause of the pain.
The minimally-invasive iFuse procedure takes about an hour and involves the insertion of three small triangular titanium implants across the SI joint via an incision about three centimeters long on the side of the hip. Approaching the joint from the side enables physicians to reduce blood loss and tissue damage. Traditional surgery accessing the SI joint from the back required a five-to six-inch incision and the removal of ligaments.
"Sacroiliac joint fusion had essentially been abandoned in the United States, but this new procedure and implant provides a good surgical option for patients who haven't responded well to conservative treatments," Dr. Oh said.
Dr. Oh served as principal investigator of a clinical trial at Allegheny General Hospital to compare outcomes of patients who undergo surgical treatment with iFuse for SI joint pain to those of patients who rely on conservative treatments, like physical therapy or medications, for relief. Results of the trial are expected to be available later this year.
About the Allegheny Health Network:
Allegheny Health Network, part of Highmark Health, is an integrated healthcare delivery system serving the western Pennsylvania region. The Network is comprised of eight hospitals, including its flagship academic medical center Allegheny General Hospital, Allegheny Valley Hospital, Canonsburg Hospital, Forbes Hospital, Jefferson Hospital, Saint Vincent Hospital, Westfield Memorial Hospital and West Penn Hospital; a research institute; Health + Wellness Pavilions; an employed physician organization, home and community based health services and a group purchasing organization. The Network employs approximately 17,500 people and has more than 2,100 physicians on its medical staff. The Network also serves as a clinical campus for Temple University School of Medicine, Drexel University College of Medicine and the Lake Erie College of Osteopathic Medicine.