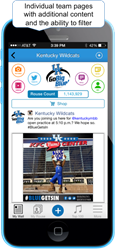 "Being able to view all of the social media posts from all of the different teams in one feed in Rouse is convenient, informative and fun for me. I am looking forward to using Rouse Social throughout the tournament," says Rick Barry NBA Hall Of Famer!
New York, NY (PRWEB) March 18, 2015
Rouse Social (a trending free mobile app), based in New York, enables fans to quickly and easily view all social media content and more from all NCAA Division 1 basketball teams and NBA basketball teams in one easy to use app. With the launch of NCAA and NBA Pages, Rouse Social also reveals details of their new Monetization and Discovery Tabs, which allow fans to buy merchandise of their favorite teams directly from Rouse Social. Fans can simply download the Rouse Social mobile application free on their iPhone or Android devices (http://www.RouseSocial.com).
Rouse is also proud to announce its very high adoption rate while still in beta. Daniel Smith, Founder of Rouse Social and former NCAA basketball player says, "The next 3 months is the best time of the year for basketball. Having played in the 1994 NCAA Tournament, I am proud to add the NCAA and NBA teams and players to the Rouse Social application. As a fan, using Rouse Social makes it so much easier for me to keep up with my favorite teams and players!"
Social media is the best place for fans to get breaking news for everything including sports. Rouse Social allows fans to stay current, having all the latest updates across all of the different social media platforms in one convenient place while giving these fans the ability to easily engage with their favorite teams. Rouse Social also gives fans quick access to buy merchandise, engage in a Live Fan Chat and much more. Rouse Social is a robust application that brings social media and e-commerce together in a fun and convenient mobile application.
Rick Barry, Basketball Hall of Famer and named one of the Top 50 NBA players of all time, loves Rouse Social. "During this time of year, I get interviewed a lot. Having great access to real-time content is vital for me to be informed. Being able to view all of the social media posts from all of the different teams in one feed on My Wall in Rouse is convenient, informative and fun for me. I am looking forward to using Rouse Social throughout the tournament and the rest of the year!"
Everyone is a fan of something, which makes Rouse great for anyone with an iPhone or Android device. Whether a fan wants to keep up with a professional athlete, movie star, model, artist, museum, CEO, brand or politician, Rouse makes it simple for the fan to see updates from his/her favorites in real-time. Rouse users just search for what they want to follow and can immediately see all of the social posts from their search. While in beta all Rouse Pages are curated by the Rouse Social Content Team. Post launch, Rouse Social is expanding by allowing users to curate their own pages, which is something everyone is very excited about.
Development capital was raised in a seed round in order to build the Rouse platform, features and the beta launch, which received a very high adoption rate. Rouse will now be going out for the company's A round to fund their launch and to get Rouse Social in the hands of fans world-wide.
For additional information on Rouse Social visit http://www.RouseSocial.com or contact:
Vira(at)McBride(dot)com
310.699.7219
ABOUT ROUSE SOCIAL
Rouse Social, a leading mobile application that brings social media, e-commerce and discovery together into one convenient and easy to use application. Rouse Social simplifies social media by providing fans with access to multiple social networks, content sources, products and more from their favorites in sports, entertainment, music, news, museums and brands all in one app. Users can view one wall with all of the social updates from their favorites or go to individual pages for additional content and filters including the ability to view only photos, only videos, only news and/or only bios. Rouse Social enables users to view and buy music, concert tickets, merchandise and even donate to charities on each celebrity Rouse Pages. Rouse is - Social Media Simplified! http://www.rousesocial.com
ABOUT RICK BARRY
Rick Barry is an American retired professional basketball player who played in both the American Basketball Association (ABA) and National Basketball Association (NBA). Named one of the 50 Greatest Players in the history of the NBA, Barry is the only player to lead the National Collegiate Athletic Association (NCAA), the ABA and the NBA in scoring for an individual season. His 30.5 points-per-game average in the ABA stands as the highest career total for a player in any professional basketball league. In 1987, Barry was inducted into the Naismith Memorial Basketball Hall of Fame.