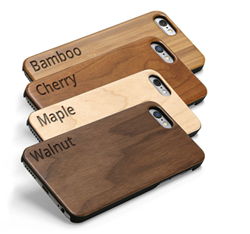 Real wood backing combined with a hard shell clipper case offers the classic look of genuine wood, with the durability of a polycarbonate hard case
Chicago, IL (PRWEB) March 26, 2015
Sunrise Hitek's woodland iPhone cases are both beautiful and durable. Real wood backing combined with a hard shell clipper case offers the classic look of genuine wood, with the durability of a polycarbonate hard case https://www.sunrisehitek.com/product/woodland-phone-case. All Woodland cases can be ordered plain, or with custom printing/engraving. This case is currently available for iPhone 5, 6, 6 Plus, Samsung Galaxy S5. Customers get to choose from cherry, bamboo, maple or walnut wood finishes.
Some highlights of this case are that it protects the phone from all angles, sides, and corners. Real wood or bamboo affixed to a black polycarbonate clipper case combines the best of both worlds- the real wood look without worrying about splitting. As with all Sunrise tech gear, there is full access to all ports, buttons, and controls as well as a super thin profile and optional customization with laser etching or full color printing.
About Sunrise Hitek
Sunrise Hitek's üuber store, formerly known as iGear, is a leading maker of protective gear for Apple's iPad. The brand changed to üuber when the company starting developing cases for other devices, such as the MacBook, Chromebook, and Samsung devices. Sunrise Hitek Group, LLC, owner of the üuber brand, also operates Sunrise Digital, a leading digital printing company based in Chicago. As a G7 Qualified Master Printer, Sunrise is uniquely qualified among protective gear makers to offer a wide array of customization options, ensuring the most consistent and accurate color reproduction. Sunrise is an Inc. 5000 company established in 1988 and employs the most advanced equipment and technology, such as G7-certified HP Indigo and UV flatbed presses, and digital die-cutting, to create best-in-class products. A privately-owned enterprise, the company is based in Chicago and sells products worldwide.