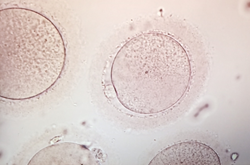 "The more experience we gain, the better we can hone our program and educate women about the number of eggs they should freeze to ensure they have the best chance of having a baby using frozen eggs in the future."
Washington, D.C. (PRWEB) March 19, 2015
"One of the things we find encouraging is the more we do, the better we become. We are in a constant pursuit to optimize the technique—not only from the technological perspective but also from an outcome perspective. With this vast experience, we can better guide and inform patients regarding their expectations of the process and outcome," says Joseph Doyle, M.D. reproductive endocrinologist and egg freezing advocate. "The more experience we gain, the better we can hone our program and educate women about the number of eggs they should freeze to ensure they have the best chance of having a baby using frozen eggs in the future," adds Dr. Doyle.
Egg freezing is a relatively newer treatment option, only recently made readily available across the nation. As a leader in reproductive medicine, Shady Grove Fertility offers vast experience in egg freezing for women looking to extend their fertility options for the future should they need assisted reproductive technology to conceive.
"As physicians, we strive to provide patients with the medical treatment needed to preserve fertility," says Robert J. Stillman, M.D., medical director emeritus of Shady Grove Fertility. "When egg freezing first became available, few were able to access this treatment, but as information and awareness has increased, so has the number of women interested in preserving their fertility."
Along with the increase in demand, the technology has proven reliable and lab techniques have been perfected, increasing patient and physician confidence in egg freezing as a medical option to preserve fertility. Shady Grove Fertility has found the number of patients returning to use their frozen eggs is steadily growing and the data has been very promising, especially for women who are proactive and freeze prior to a significant decline in their fertility.
Whether to preserve fertility electively or for medical reasons—such as a recent cancer diagnosis, endometriosis, or a family history of premature ovarian failure—egg freezing is a medical breakthrough for women. "At Shady Grove Fertility, we believe strongly in practicing only evidence-based medicine. It's the data, along with our collective experience and knowledge that informs our processes. We designed a unique Egg Freezing Program to specifically meet the needs of women who wish to pursue elective egg freezing and we are pleased to announce that it is a growing option among women," adds Dr. Doyle.
###
About Shady Grove Fertility
Shady Grove Fertility is a leading fertility and IVF center of excellence offering patients individualized care, innovative financial options, and pregnancy rates among the top in the nation. Since 1991, more than 37,000 babies have been born to patients from all 50 states and over 35 countries around the world. Shady Grove Fertility physicians actively train residents and reproductive endocrine fellows and invest in continuous clinical research and education to advance the field of reproductive medicine through numerous academic appointments and partnerships with Georgetown Medical School, Walter Reed, and the National Institutes of Health. Today, 32 reproductive endocrinologists, PhD scientists, geneticists, and more than 600 highly specialized Shady Grove Fertility staff care for patients in 18 full-service offices, and four satellite sites throughout Pennsylvania, Maryland, Virginia, and Washington, D.C. For more information, call 1-888-761-1967 or visit http://www.ShadyGroveFertility.com.