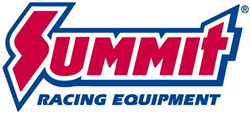 Tallmadge, OH (PRWEB) March 23, 2015
Despite production ending decades ago, the ubiquitous Chevy Rallye wheel can still be found everywhere from S-10 trucks to vintage Corvettes. With originals getting scarce, U.S. Wheel has introduced a version inspired by Chevy's iconic design.
U.S. Wheel Rallye Wheels are available in a much broader range of sizes than Chevy ever imagined. They're offered in 14, 15, and 16 inch diameters with an array of width, bolt pattern, and backspacing options. That opens up a ton of possibilities for owners of late-model vehicles, resto-mods, or cars fitted with upgraded brakes.
U.S. Wheel Rallye Wheels come in three versions. The 54 Series is primered and ready to paint. The 55 Series has a traditional silver finish, while the 57 Series comes in a brilliant chrome finish.
U.S. Wheel also makes OE-style center caps, lug nuts, and hub covers for these wheels, available separately at Summit Racing.
Summit Racing Equipment
http://www.SummitRacing.com
1-800-230-3030