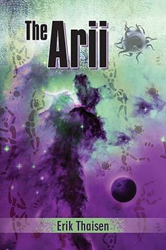 "This novel is a fascinating tale that will especially appeal to science fiction readers." - Robert Fletcher, CEO of Strategic Book Publishing and Rights Agency
(PRWEB) March 19, 2015
Who is Zachariah? This space traveller who arrived on Earth in a frozen state riding on Halley's Comet is being hailed by a newly formed cult that has proclaimed him a supreme extraterrestrial being.
When the comet drops off Zachariah in Antarctica, he is rescued and taken to Melbourne, Australia, where he meets and befriends Mary and Rachel. The women believe Zachariah is human but not of this earth and they become the founders of his cult. Zachariah is responsible for a billion of his people in a frozen state who are depending on him. These frozen people left in space are known as "The Arii," and they are searching the universe for a planet to call home.
But "The Arii" are a people in trouble. They're being pursued by an invasive infection called the plasmoencephalapod. Frozen and defenseless, the people are relying on Zachariah's cult-like coalition to defend them and find them a new planet to call home. Will they succeed?
"This novel is a fascinating tale that will especially appeal to science fiction readers. We are thrilled to announce its release," said Robert Fletcher, CEO of Strategic Book Publishing and Rights Agency.
About the Author: Erik Thaisen was born in New Zealand and currently lives in Melbourne, Australia. In addition to his writing, the author has a telecommuting position with an advertising company. When not working, he enjoys practicing taekwondo and running between 10 and 20 kilometers a day. "The Arii" is his first published book.
THE ARII (Kindle ISBN: 978-1-63135-730-5, ePub ISBN: 978-1-63135-731-2) is available for $9.99 at http://epubco.com/shop/products/the-arii-by-erik-thaisen/, at Amazon, BarnesandNoble.com,
and in multi-formats for other e-Readers through numerous vendors online.
The soft cover version (ISBN: 978-1-61897-035-0, $16.50) can also be ordered through the publisher's website: http://sbpra.com/ErikThaisen or at Amazon or Barnesandnoble.com.
WHOLESALERS: This book is distributed by Ingram Books and other wholesale distributors. Contact your representative with the ISBN for purchase. Wholesale purchase for retailers, universities, libraries, and other organizations is also available through the publisher; please email bookorder@sbpra.net.