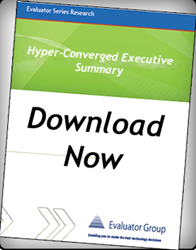 Evaluator Group is releasing new research to help IT end users better understand the designs and trade-offs of hyper-converged appliances
Boulder, CO (PRWEB) March 24, 2015
Hyper-converged appliances are becoming an attractive solution, as they can reduce complexity and speed up deployment, especially for those interested in virtualizing their infrastructures. Recognizing it as a strong solution for a variety of use cases, Evaluator Group is releasing new research to help IT end users better understand the designs and trade-offs of hyper-converged appliances. Download the free Executive Summary to learn more about the technology.
A hyper-converged appliance delivers a virtualized infrastructure without the need for separate physical servers, networks, and storage.
"Evaluator Group finds that appliances are being deployed in 3 areas: small and mid-sized businesses as their primary system, remote office systems and web-scale private clouds," said Camberley Bates, Managing Director at Evaluator Group. "With the variances of these use cases, product architecture and functionality can greatly differ by vendor."
Watch the video of Camberley Bates discussing hyper-converged adoption.
Establishing deployment objectives and having a clear understanding of underlying system designs is a critical preliminary step in the evaluation process. IT professionals are guided through each step of that process with comprehensive research from Evaluator Group.
The new coverage includes an Evaluation Guide, product reviews, a standard and interactive product Comparison Matrix, and a Workbook addressing requirements. Product reviews cover unique offerings from HP, Maxta, Nutanix, Scale Computing, and Simplivity. A separate Product Brief details VMware EVO: RAIL offerings from Dell, EMC, Fujitsu, HDS, HP, NetApp, and SuperMicro.
Using the Hyper-converged Evaluation Guide to understand the critical technology characteristics, IT end users can clearly identify their buying requirements and priorities. The Hyper-converged Comparison Matrix allows for side-by-side comparison of product specifications and capabilities. An interactive version also allows users to build their own customized comparison using Evaluator Group data. Lastly, the Product Briefs cover key characteristics, usage cases, potential, and commentary on strengths and weaknesses.
Premium subscriptions are required to access the research and begin at $2750 for IT professionals. A free Hyper-converged Executive Summary is available.
About Evaluator Group
Evaluator Group Inc., an IT storage analyst firm, has been covering Information Management, Storage and Systems for over 15 years. Executives and IT Managers use us daily to make informed decisions to architect and purchase systems supporting their digital data. We surpass the current technology landscape by defining requirements and providing an in-depth knowledge of the products as well as the intricacies that dictate long-term successful strategies.
Press Contact: For more information about Evaluator Group contact Caitlin McCluskey at 303.221.7867 x1008 or caitlin(at)evaluatorgroup(dot)com.