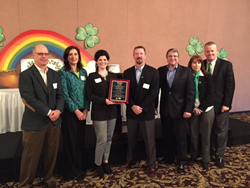 'With a focus on sustainability, we are committed to supporting the communities, environment and economies in which we operate, both close to home and abroad.' — Devanir Moraes, Chem-Trend President and CEO
Howell, Mich. (PRWEB) March 20, 2015
Chem-Trend, a global leader in the development and production of high-performance release agents and casting lubricants, was named the 2014 Randy Rudisill Business of the Year by the Livingston County United Way.
The annual award is named after local business leader and United Way advocate Randy Rudisill, who passed away in 2010. It recognizes a Livingston County company that embraces Mr. Rudisill's strong ethics, sense of community and business management style.
"Corporate responsibility is an integral component of the way we do business and is ingrained throughout our global operations," said Devanir Moraes, Chem-Trend president and CEO. "With a focus on sustainability, we are committed to supporting the communities, environment and economies in which we operate, both close to home and abroad."
Chem-Trend began its involvement with the Livingston County United Way nearly 40 years ago as one of the organization's first business partners. Throughout 2014, Chem-Trend and its employees participated in a number of community activities worldwide. In the U.S., employees were engaged in a variety of activities near the company's Howell, Mich., headquarters including the Chem-Trend Giving Garden that benefits local food banks, a service project supporting the Howell Teen Center and volunteering in the United Way's Day of Caring.
According to Nancy Rosso, Executive Director for the Livingston County United Way, Mr. Rudisill enriched the history of the organization through his selfless giving and caring for the community.
"He was a true leader who served on our board of directors, participated in many other local organizations and tirelessly gave a level of service and dedication to be admired," said Rosso.
"We are so very thankful to Chem-Trend for its decades of commitment to our organization and to its employees who are always so generous with their support."
Rosso said Chem-Trend was selected because it reflects the qualities Mr. Rudisill valued most, including continuous improvement, hard work, customer service and ethical practices.
About Chem-Trend
Founded in 1960, Chem-Trend is a global organization focused on delivering value-added solutions to improve quality, reduce costs and boost the productivity of molding and casting operations. Chem-Trend offers a globally integrated network of experienced, knowledgeable and insightful production and technical experts in all major manufacturing regions around the world. Chem-Trend serves global manufacturers through offices in North America, South America, Asia and Europe. As a member of the Freudenberg Group, Chem-Trend adheres to the group's "Guiding Principles," which include commitments to providing value for customers, innovation, leadership, encouraging the well-being and development of our people, corporate and personal responsibility, and a long-term orientation. Chem-Trend's company culture, which is intertwined with the "Guiding Principles," drives the organization to deliver exceptional value to its customers through its high standards for conduct. For more information, visit http://www.chemtrend.com.