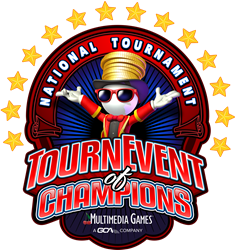 In just a few years, National TournEvent of Champions has established itself as the premier slot tournament event in the world.
Austin, Texas (PRWEB) March 23, 2015
The Facebook version of Multimedia Games' TournEvent, which was launched in October, entered into a sweepstakes period starting March 11, 2015, when players could begin qualifying for a chance to play in the National TournEvent of Champions Championship during the Global Gaming Expo (G2E) in Las Vegas, Nevada.
Running through August 31, 2015, slot tournament enthusiasts can turn their idle Facebook time into a chance to win a seat at the Championship, where $1.3 million will be up for grabs. Players can enter the online TournEvent sweepstakes by playing and earning up to 150 'e-tickets' per day or mailing in a written entry, which will then be entered into a monthly random drawing for 200 Golden Passes — a player's invitation to compete in the live National TournEvent of Champions qualifier held on September 29th in Las Vegas. The winner of the qualifier will then be awarded a spot at the National TournEvent of Champions on September 29-30, where the eventual champion will claim $1 million* of the $1.3 million purse, along with a dazzling National Champion's ring.
"In just a few years, National TournEvent of Champions has established itself as the premier slot tournament event in the world," said Ram V. Chary, GCA and Multimedia Games President and CEO. "There is only one National Slot Champion, and that person is crowned at our National TournEvent of Champions in September. Expanding the opportunity for that experience online through Facebook will bring even more excitement to TournEvent and casino floors."
In addition to the online component of the campaign, the 2015 National TournEvent of Champions will be running live qualifying events at casinos across the country throughout the spring and summer months, with the Million Dollar* Event expected to host more than 200 players representing over 100 casinos. For the first time, the National Championship event will be held over two days — instead of a single evening — during G2E in Las Vegas.
Throughout the Sweepstakes period, written entries containing an eligible persons*** name, address, email address, and date of birth for the Facebook TournEvent of Champions daily drawings can be mailed to:
Multimedia Games
Attention: TournEvent of Champions Sweepstakes
206 Wild Basin Rd S, Suite 400
Austin, TX 78746
*One million dollar grand prize awarded using periodic payments over 20 years.
**See http://www.tourneventofchampions.com/ for Official Rules. Must be over the age of 21 to enter the sweepstakes. If you think you might have a gambling problem, call for help: Problem Gambling Helpline, +1-800-522-4700.
About Multimedia Games, Inc.
Multimedia Games, Inc., a GCA company (NYSE: GCA), develops and distributes gaming technology from its operations, technology and manufacturing facilities in Austin, Texas. The company is a creator and supplier of comprehensive systems, content and electronic gaming units for Native American and commercial casinos. Revenue is derived from gaming units in operation on revenue-sharing arrangements as well as from the sale of gaming units and systems that feature proprietary game content and game themes licensed from others. Multimedia Games also supplies the central determinant system for the video lottery terminals ("VLTs") installed at racetracks in the State of New York. The company was recently listed as one of Fortune's 100 Fastest-Growing Companies of 2014. Please visit http://www.multimediagames.com, twitter.com/MultimediaGames or facebook.com/MultimediaGames, where Multimedia Games discloses important information about the company, its sales, and its business.
About the National TournEvent of Champions®
The National TournEvent of Champions is a collaboration between Multimedia Games, a GCA company, and top casinos across the country to bring unprecedented competition, intensity and glory to the casino floor through a national slot tournament, crowning the industry's only Slot Tournament National Champion. The first National TournEvent of Champions took place in 2013 with 88 players, representing 77 casinos competing for the national title and $100,000 grand prize. The 2014 National TournEvent of Champions hosted 123 players from 103 casinos, with $500,000 in total prize money, including a National Champion's share of $200,000. In 2015, over 200 players from more than 125 casinos are expected to compete for a prize purse of $1.3 million, including a National Champion's grand prize share of $1 million (see complete contest rules for prize disbursement governance)*.
*Grand prize awarded using periodic payments over 20 years.