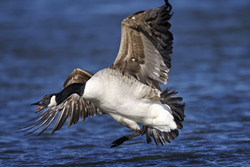 We might just have to go back. We had a bird strike on takeoff
Chicago, IL (PRWEB) March 18, 2015
The morning of March 17 started off badly for one American Airlines pilot when Flight 1320 "came in contact" with a flock of geese during takeoff (CBS New York, 3/17/15). Bird-X, bird control experts for over 50 years, provides its expert commentary.
"We might just have to go back. We had a bird strike on takeoff," the CBS reports the pilot stated, then, "Departure American 1320 has declared an emergency and we'd like to return to JFK." JFK airport is known for having a large bird population, which is a concern to airline passengers.
"Birds are a huge problem for airlines," Dennis Tilles, President of Bird-X, Inc. reports. "Bird Strikes are a daily occurrence and cost the industry hundreds of millions of dollars. More importantly wildlife in the wrong place at the wrong time can endanger passenger's lives."
Bird-X has spent a large part of its research and development resources on airline bird control. Dr. Philip Whitford, renowned biologist and pilot from Capital College, is retained by Bird-X to further study the behavior of geese in order to continually improve Bird-X's line of sonic electronic bird repellers. These products have proven useful as a part of wildlife management programs at airports and other locations around the world.
While every airport's situation is different, sonic deterrents are currently used at international airports in the Europe, Asia and in the U.S. Sound units are increasingly gaining popularity as bird and pest reduction techniques are further proven with applied experience.
Pest birds gravitate to areas the offer a natural habitat. Food, water and tall grass especially are attractive to geese. Sonic bird control devices are designed to make the environment as uncomfortable as possible by combining Canada goose alarm and alert distress calls, predator calls, and other unwelcome sounds.
Electronic devices are especially beneficial for airports because they can actively cover very large spaces without interfering with airport operations. Canada Geese are some of the most difficult birds to repel, but thanks to years of testing and continued field use, Bird-X systems are being specified in the industry as extremely effective tools for reducing and eliminating bird flocks from unwanted areas.
Thankfully American Airlines Flight 1320's bird strike left no visible damage on the plane itself and all its passengers were safe – but fatal bird strikes can and do occur and must be reduced at all costs.
A variety of bird control techniques is the best method for bird control; combining different kinds of repellents such as electronic units, physical, and visual is the most effective way to make birds feel unwelcome in areas where they can cause danger to themselves and others.
Bird-X has spent over 50 years as the leading international brand of bird and pest control products and is dedicated to protecting the health of humans, wildlife, and the environment in which we all live. The Chicago-based company manufactures a complete line of unique pest control products with an unmatched focus on quality and efficacy, including complete airport bird control systems currently used at airports around the world.