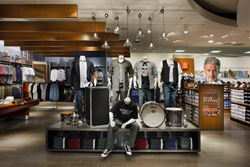 Bigger guys have been underserved for so long and we're happy to bring them their sizes in the most current styles, right here in a city that's known for fashion
Canton, MA (PRWEB) March 19, 2015
The Big Apple just got a little bit better at serving the needs of bigger guys, as today Destination XL announced the opening of its first Manhattan store at 703 6th Avenue. The DXL® store is a new one-stop shop catering to the fashion needs and lifestyles of bigger and taller guys. The store joins the 7 other DXL stores in New York.
"We are excited to open our newest store in the midst of such a bustling retail atmosphere, in the heart of Manhattan," David Levin, President and CEO said. "Bigger guys have been underserved for so long, and we're happy to bring them their sizes in the most current styles, right here in a city that's known for fashion."
Situated on prestigious 6th Avenue, this historic location has become a mecca for shoppers all across the city due to its easy accessibility to nearby transportation like Penn Station, New York City subways and the PATH. In addition to the combination of residential and commercial properties in the area, the address is also close to the Flatiron District—another significant draw.
Destination XL offers more than 100 brands with selections ranging from private labels, sure to appeal to the value-conscious shopper, to the hottest luxury brands such as Polo Ralph Lauren, Lacoste, English Laundry, Buffalo David Bitton, Psycho Bunny, Michael Kors and Lucky Brand Jeans. Also available exclusively at Destination XL are brands such as Twenty-Eight Degrees, Society of One, DKNY Jeans, Robert Graham, True Religion and Brooks Brothers. Sizes start at 38" waist and XL, including tall sizes; DXL also offers a variety of shoes in sizes 10-16, in widths to 4E.
The DXL store provides a unique shopping experience built just for men with conveniences such as a more spacious environment, including wider aisles and dressing rooms double the size of a standard department store; the store also offers outstanding service, from knowledgeable associates to in-store tailoring to ensure that everything fits perfectly. The experience carries through to DestinationXL.com where customers can access an even greater selection directly from the website through their computer, smart phone or tablet. They can also verify if a product is in stock at their local store or select to have online purchases shipped to a local DXL store for free.
This new store joins the 143 current DXL locations across 41 states. "The DXL store was built with the bigger guy in mind and directly addresses needs he's expressed through customer feedback and focus groups," says David Levin, President and CEO of DXLG. "Our customers seek choices, value, convenience and a unique shopping experience, which DXL stores offer. After experiencing the store, over 90% of customers say they'll return to shop Destination XL again, so we are confident that our success in other markets will be replicated here in New York."