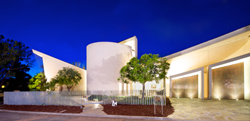 La Jolla, CA (PRWEB) March 31, 2015
La Jolla real estate agents, Amber Anderson & Brandon White have sold numerous luxury homes over the last couple of years, but none have presented the challenges of 724 Muirlands Vista Way. This shining example of contemporary architectural ingenuity, that features an open floor plan, and towering glass walls was equal part home and piece of art. "We knew creativity was going to be a key to our success in selling a property with so much character," said Anderson.
Anderson & White began to formulate a marketing plan like no other. In the not too distant past, typical marketing campaigns for luxury homes felt dull and uninspired. The antiquated notion of simply snapping a few high resolution pictures of a home and reserving ad space in the local newspaper has lost its luster. In the digital media age these tactics are now but a trivial piece of a rapidly evolving segment of San Diego's real estate market. To promote a luxury home effectively, one must ensure access to a vast global audience, with a responsive, creative and well integrated advertising plan, all of which is targeted to specific demographics.
Luxury is synonymous with the Pacific Sotheby's International Realty Brand. The level of exposure a home receives both online and in print is unparalleled. "Cultivating relationships with brand partners is equally important, as we experienced with Architectural Digest, The Wall St. Journal and Luxury Properties (the largest Asian Real Estate Publication)" White noted. With feature editorials in each, the cliché of "who you know" rings true. The benefit of high level connections is only a small portion of the tailored marketing plan.
With its pervasive grip on modern culture, video has revolutionized the way media is consumed. Anderson and White recognized this growing trend early, and have used the medium as a focal point for the luxury homes they sell. Sotheby's International Realty's chief marketing officer Wendy Purvey states "That today's consumers are looking to gather information through video because it offers a unique, immersive experience. Video enables us to truly showcase the intangible lifestyle a property offers, opening the door to their potential next home, no matter where in the world it is located". Through the Sotheby's International Realty brand initiative to increase video exposure of luxury properties coupled with Anderson and White's creative digital promotion efforts, they're ready for any luxury home!