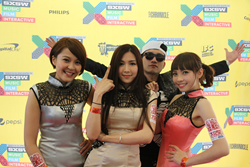 I had the pleasure of seeing TOFFEE play last week – quite exciting! I think a lot of unsuspecting SXSW guests were pleasantly surprised
Austin, TX (PRWEB) March 28, 2015
SXSW's inaugural Taiwan Music Night showcase took off in the fashionable Rainey Street entertainment district in Austin, Texas last week. Although Taiwan music have appeared at SXSW for the past seven years, yet this year marks Taiwan's largest presence, because it's the first official showcase to present all artists on one stage for the entire event.
The headliner performer at the showcase was Dwagie, a hip-hop artist who is Cool with the Dalai Lama, Nas and Animals. TOFFEE was a mashup act fusing traditional Chinese string instruments with Western electronic sounds. OVDS (pronounced Overdose) were a mix of EDM, rock, and live visual artists. With representatives from the likes of Taipei Economic and Cultural Office in Houston, The Syndicate and MTV Iggy in attendance throughout the night, those lucky enough to enter the packed venue were treated to an exemplary demonstration of the quality and diversity of music Taiwan offers.
James Minor, SXSW Music Fest General Manager, was also in attendance to watch TOFFEE's performance, said "TOFFEE integrates classical Chinese instruments with Western styled emcee rapper, such an unique style of performance was a delight to watch."
"I had the pleasure of seeing TOFFEE play last week – quite exciting! I think a lot of unsuspecting SXSW guests were pleasantly surprised," said Kodi McKinney, Manager, Promotion & Marketing at The Syndicate.
The showcase also featured Echo, one of the top alternative rock bands in Taiwan that was selected by MTV Iggy as one of the 15 International Acts You Must Watch at SXSW. The Sign of Human was a psychedelic rock band from Taipei. Vulpes was a Taiwanese-born, American-raised singer-songwriter based in Brooklyn, NY.
"Taiwan Music Night," a showcase organized by the Taipei-based GCA Entertainment, has seen its success in the past four years at other music festivals: CMJ Music Marathon, held every October in NYC, and MIDEM, which has just moved from its regular January/February slot into summer this year, taking place in early June in Cannes, France.
All events were held with the support from the Ministry of Culture, Bureau of Audiovisual and Music Industry Development (BAMID), who has been on a mission to promote and export Taiwanese music for the last decade.
The Taiwan delegation was at SXSW to present opportunities for cross cultural collaboration with Western artists in association with the 26th Golden Melody Awards, the premier music awards show for the Mandarin music market, and media events around the iconic Taipei 101 skyscraper.