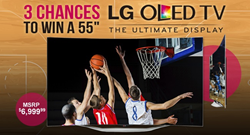 Edison, New Jersey (PRWEB) March 19, 2015
BuyDig.com is partnering with LG to bring interested parties the chance to join in the BracketBall Madness with the Best Picture Ever Bracket. This contest is very quick and easy to enter – simply visit the entry page, fill out the bracket for the current round, and then check back after each round to view the winners. For anyone lucky enough to net a perfect bracket all the way down, Second Street, the promotional engine powering this contest, will pay out a one million dollar cash prize.
The first place prizes for each BracketBall round include an LG 55-Inch 1080p Smart 3D Curved OLED TV. This television features a new curved OLED screen, netting it C|Net's "Best Picture Ever" award. Its ultra-slim design makes it light-weight and easy to mount just about anywhere without sacrificing its ability to deliver rich, vibrant colors using organic light-emitting diodes. The self-lighting pixels on the screen turn off and on individually, allowing for an infinite level of contrast as well as bringing a new range to color controls (white instead of the normal tri-color red-green-blue). The operating system and apps built in to the television are easy to use and will help users to find their favorite shows and films quickly and easily without having to wade through dozens of different menus. Likewise, the included LG Magic Remote will replace the dozens of remotes and let viewers control their Blu-Ray, DVD, home theater system, set-top-box, and sound bar with just one remote. Anyone interested in learning more about this great new entertainment unit from LG should visit BuyDig's information page.
The winners will also receive a gift card to use at BuyDig.com's online store -- $100 for the Upfront (sixty-four team) Bracket, $50 for the sixteen team bracket, and $25 for the four team bracket. Second and third place winners in each of the brackets will receive gift cards worth $250 and $100 respectively.
Entry into the BracketBall Madness contest is free – no purchase is necessary to play.
For those not lucky enough to win, BuyDig will be offering a special BracketBall Madness price on this model from March 15 until April 4. Instead of paying the normal $3499, shoppers can save $500 instantly, purchasing this great television for just $2999. They will also receive a free wall mount and get 15% Rewards Cash Back as well as the normal free shipping. Savvy shoppers who include the LG 4.1-Channel Bluetooth 320W Slim Sound Bar with their purchase can save an additional $250 on this sound system and still get fast, free shipping to boot.
The names of the winners as well as more information about the contest will be provided on BuyDig's Facebook page so interested parties should be sure to check them out there.
About BuyDig:
BuyDig.com is a privately-held and operated online retailer based in Edison, New Jersey. Founded in 1983 under its parent company, Beach Trading Co. Specializing in selling digital cameras, electronics, computers, tablets, audio/video, home and garden, kitchenware, luggage, sporting goods, fitness trackers and more, BuyDig has worked diligently to become the Internet's #1 electronics superstore. BuyDig partners with many of the major CE manufacturers such as Canon, Samsung, Sony, HP, Lexar, and Cuisinart to make consumer technology and electronics affordable and available to the widest market possible. BuyDig also offers free shipping as well as a 45-day return policy on items purchased from their store. By combining legendary customer service with a philosophy of providing more for less, BuyDig.com has earned its reputation as the premier destination for consumer electronics.