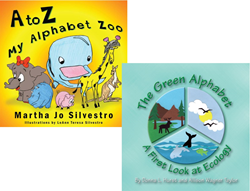 "We congratulate all of the authors on these spectacular educational books that will help children learn language not just here in the U.S. but around the world." - Robert Fletcher, SBPRA CEO
(PRWEB) March 20, 2015
eTeachersHub.com – the website by teachers for teachers - has chosen its top three alphabet books, based on their educational versatility and "unique approach in teaching young learners about each letter of the alphabet and the world around them," according to the article.
SBPRA author Martha Jo Silvestro's "A to Z, My Alphabet Zoo" is number one. This engaging book not only teaches children the alphabet, but also all about an array of animals, who each tell the story of who they are and where they came from. "A to Z" is filled with fun and adventure, sure to engage any child. Book number two is SBPRA's "The Green Alphabet – A First Look at Ecology". This unique book, written by Donna L. Hurst and Allyson Wagner Taylor, is far more than an ABC primer. It is a great teaching tool for exposing young children to environmental awareness, using simple definitions and beautiful cut paper illustrations. Rounding out the top is "The Alphabet from A to Y With Bonus Letter Z!" by Steve Martin and Roz Chast.
The SBPRA titles were also chosen to be a part of the IB Library collection. TheIBLibrary.com is on its way to becoming the world's largest online repository of authentic IB aligned and curated Ebooks and materials. It will include an extensive collection of IB Teacher-generated lesson plans, promote reflection, action, and global collaboration via the copyrighted Connect & Collaborate link on InquiryConnection.com.
SBPRA CEO Robert Fletcher said, "We congratulate all of the authors on these spectacular educational books that will help children learn language not just here in the U.S. but around the world."
eTeachersHub is a free information resource for individuals looking to kickstart their ESL career abroad.