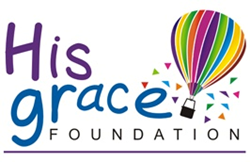 Tomball, TX (PRWEB) March 19, 2015
His Grace Foundation in Tomball, TX has been assisting patients in the bone Marrow Transplant Unit since 1997. In 2014, Canaan Arnold received two bone marrow transplants and continues to undergo treatment for various complications. Premier Insurance Advisors are looking to raise funds to help His Grace Foundation provide for families in need and for Canaan.
Canaan Arnold was diagnosed with a rare genetic disorder called Chronic Granulomatous Disease, or CGD at 4 years old. CGD causes the patient to be unable to fight off any kind of bacterial or fungal infection and the only cure was for him to undergo a Bone Marrow Transplant. Even though both surgeries have been successful, Canaan still receives treatment for various complications. The Arnolds call him their "Little Hero" because he always has a positive attitude and is a fighter. The Arnolds continue to express their thankfulness for His Grace Foundation's presence in their lives. Premier Insurance Advisors is looking to raise funds to support families like the Arnolds during hard times. Donations can be made through https://www.hisgracefoundation.org/Donate.aspx.
Designed to be "grace in the need of the moment," HGF has steadily grown, increasing in services, volunteers and impact. HGF provides each new patient with a gift basket designed specifically for him or her, as well as necessities for family members, free parking for patient families, several monthly catered meals and weekly shopping. Additional services include massage therapy, emergency funding, holiday and birthday celebrations and arts in medicine program. In the last several years, the foundation has expanded to provide three homes for outpatient temporary housing while families are required to maintain close proximity to the hospital.
The agency will donate $10 to the cause for each person recommended to the agency for a quote – no purchase necessary. Anyone willing to help this campaign can recommend someone they know might need a new insurance evaluation for their auto, home, life, and more.
With agencies in Texas, Premier Insurance Advisors is employing its social media channels, email and text message communications in the campaign, and dedicating a full page of their monthly magazine to the cause. The electronic version of Our Hometown magazine can be viewed here: http://www.premierinsuranceadvisors.com/Our-Hometown-Magazine_43.
Operating as agents of change in the community, Premier will continue to work for causes like Canaan's. Any members of the community can request to be considered for future campaigns through this link: http://www.premierinsuranceadvisors.com/Submit-A-Community-Cause-Idea_46. Entries are diligently submitted for review, and the elected worthy causes are properly contacted by a representative of Premier's Community Program. More information regarding past and current campaigns supported by Premier Insurance Advisors can be found at http://www.premierinsuranceadvisors.com/community-cause.
About Premier Insurance Advisors
Premier Insurance Advisors is a full-service, local Allstate insurance agency that strives for excellent customer service. With two locations, Premier Insurance Advisors is proud to announce that 93.3 percent of its 4,100-plus customers renew their policy every year. The agency provides home insurance, automobile insurance, life insurance, boat insurance, motorcycle insurance, golf cart insurance and more for Texas residents. To learn more about Premier Insurance Advisors, visit http://premierinsuranceadvisors.com. Call 281.477.8805 to speak to an agent today.