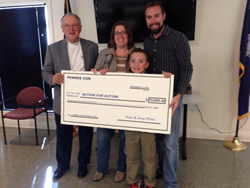 The funds raised at Penned Con will assist at least three children with autism to attend the AFA Academy's Learning and Therapy Centers each year.
St. Louis, MO (PRWEB) March 20, 2015
Penned Con was established with two goals in mind; to bring authors and readers together to celebrate their love of books, while raising money for Action for Autism a St. Louis based 501 (c) (3) charity.
Going into it's second year, Penned Con 2015 will host 90+ New York Times, USA Today and Best Selling authors on July 23rd, 24th and 25th at the St. Louis City Center Hotel.
This year there will be a teen day that has been designed to help young adults define their craft and dreams of writing a book and becoming an author while learning along side some of today's best selling authors. The teen day is on July 23rd from 10am-5pm.
The following two days will begin the all genre book signings, panels, workshops and Q&A sessions for reader and authors and will continue into July 25th. The event will run from 10am-4pm on Friday and 10am-2pm on Saturday. This years keynote speakers are New York Times and USA Today best selling authors Denise Grover Swank and Aleatha Romig.
Last year saw Penned Con raise over $10,000 for Action for Autism which has been used to allow at least three children with autism attend the AFA Academy's Learning and Therapy Centers each year.
To learn more about Penned Con, the attending authors and to purchase tickets visit the official website here.
The founders of Penned Con are Rick and Amy Miles. Rick is the owner of Red Coat PR, a Public Relations firm for authors and Amy is the author of thirteen books, including the young adult best selling Arotas Series.