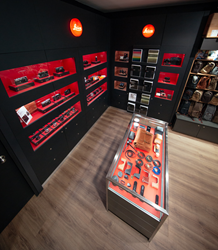 (PRWEB) March 24, 2015
The highly-anticipated grand opening of the collaboration between two of the finest in global photographic brands – Leica Camera AG and digiDIRECT Australia - has finally arrived, with Leica opening a Boutique Display within digiDIRECT's Sydney store on King Street.
Located in the heart of Sydney, the experts at digiDIRECT will provide residents and tourists with the opportunity to experience a hands-on approach with the iconic Leica M System.
General Manager of Leica Australia, Ryan Williams commented: "I'm very happy to be opening a Leica Boutique at digiDIRECT in Sydney. The team at digiDIRECT have worked closely with Leica over the past few years to offer a more personalised experience for our customers, and have invested in some truly exceptional staff."
In celebration of the Grand Opening, digiDIRECT's Sydney store will have on show one of two special variants of the Leica M –P 240 –"THE LIMITED EDITION LEICA M-P TYPE 24CORRESPONDENT SET", created by Lenny Kravitz for KRAVITZ DESIGN that have been set aside for Australia and limited to only 125 sets worldwide.
The LENNY KRAVITZ M-P 240 SET will be a treat for all to see.
digiDIRECT Managing Director, Shant Kradjian said: "We are thrilled to be bringing this customer-focused Boutique experience featuring a premium brand in photographics in Leica, to our digiDIRECT customers. For us, opening a Leica Boutique in the heart of Sydney is an exciting evolution for our business and we look forward to serving the Leica community in Australia."
The digiDIRECT Leica Boutique will officially open on Friday 27th March 2015. It will become a destination for all photographic enthusiasts to visit and marvel at the micro-exhibition, 7 days a week.
[END]
For your chance to set up a private consultation with one of our Leica Consultants - contact digiDIRECT Sydney on 02 9262 2330 or via email leica(AT)digidirect.com.au to arrange a suitable time. For all the latest information regarding the digiDIRECT Leica Boutique, please visit http://www.digidirect.com.au/LeicaBoutique or on Facebook at http://www.facebook.com/digidirect
About Leica Cameras
Leica Camera AG is an internationally operating premium-segment manufacturer of cameras and sport optics products. The Leica legend is founded on a long tradition of optical excellence and precision engineering and in combination with today's innovative technologies; Leica products continue to guarantee better pictures in all situations in the worlds of visualisation and perception. Leica Camera AG has its headquarters in Wetzlar, in the state of Hesse, with a second production site in Vila Nova de Famalicão, Portugal. The company operates branch offices in England, France, Japan, Singapore, Switzerland, South Korea, Italy, Australia and the USA. New and innovative products have been the driving force behind the company's positive development in recent years.
For further information about digiDIRECT please contact Sina Clayton on +61 3 9670 6901.
For further information about the Leica Product range please contact Ryan Williams - Leica Camera Australia on +61 3 9248 4444.