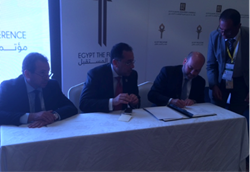 New York, NY (PRWEB) March 20, 2015
RWL Water & Orascom Construction Limited (OCL) signed a Memorandum of Understanding on March 14, 2015 in Sharm-El-Sheikh, Egypt with the Egyptian government to proceed with the feasibility study for building, financing and operating the first large desalination plant in Egypt for the supply of potable water. The project will include the development of an 80,000 cubic meter per day plant with a possibility to increase its capacity in the future.
The Egypt government and RWL Water/OCL intend to enter into a water supply agreement after finalization of the study.
RWL Water is the leading partner in the consortium with Orascom in this BOT project. The Memorandum of Understanding was signed and announced during the Global Egypt Economic Development Conference at Sharm El Sheikh last week. More than 80 world leaders and 2,000 representatives attended the conference from all major international companies.
"This agreement showcases RWL Water as a global leader in water desalination and Orascom Construction's commitment to working closely with the Egyptian government to solve Egypt's water scarcity challenges in the private sector for industrial investments," said Karim Nasr, RWL Water's Managing Director in the Middle East. "We take our commitment to providing water solutions seriously. As soon as the agreement was signed, our work began and a dedicated team will be on the ground to proceed with the execution within days," he added.
"We are very excited to join forces with Orascom on this important project for the necessary increase of potable water for Egypt, which will have a very positive impact on the economic development of the country. The signing of this MoU is the first step towards RWL Water's investment in this, and similar kind of projects, in the MENA region", said Henry J. Charrabé, President & CEO of RWL Water.
About RWL Water
Founded by Ronald S. Lauder, RWL Water was established with a vision to become the leading global water, wastewater, and reuse solutions provider in the middle market. The Company offers global solutions for desalination, water, wastewater, waste-to-energy, recovery & reuse, and food & beverage processing. RWL Water provides leading edge sustainable water, wastewater, and reuse solutions by deploying its internationally experienced and highly responsive team, dedicated to achieving clients' economic and operational goals.
The Company has designed plants on all seven continents to help industrial and municipal clients treat their complex water and wastewater effluents in affordable, energy efficient ways. With more than 7,000 sites installed in over 70 countries around the world, RWL Water has a reputation for innovative engineering and fast deployment.
RWL Water's core operations are strategically located in North & South America, the
Middle East, and Europe to provide rapid response through its network of sales, service, technical, and engineering professionals worldwide.
For information on RWL Water, please visit http://www.rwlwater.com.
About Orascom Construction
Orascom Construction is a leading global engineering and construction contractor primarily focused on infrastructure, industrial and high-end commercial projects in the Middle East, North Africa, the United States, and the Pacific Rim for public and private clients. It ranks among the world's top global contractors with projects and investments in more than 20 countries around the world. Orascom Construction also develops and invests in infrastructure opportunities. We can trace our roots in the construction industry back to 1950.
Orascom's core competencies cover power, water and wastewater, transportation infrastructure, manufacturing, pharmaceuticals, oil and gas, petrochemicals, and large-scale commercial complexes.
The Company prides itself on the groundbreaking quality and nature of our work. Orascom built the first solar power plant in Egypt, the largest water desalination plant in Africa, the world's longest double-swing rail bridge, as well as New Cairo Wastewater Treatment plant, Egypt's first Public-Private Partnership (PPP) concession.
For more information on Orascom Construction, please visit http://www.orascom.com.