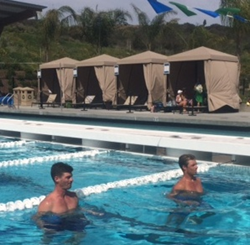 Oak Brook, IL (PRWEB) March 24, 2015
Fluid Running® founder and Ironman Triathlete, Jennifer Conroyd, was featured in a recent Men's Journal article spotlighting the 20 best fitness classes and workouts nationwide.
"You can do your hardest workout of the week in the water, burn up to 40 percent more calories than running on land, and wake up the next morning feeling rejuvenated because there's no impact," says Conroyd in the article.
Fluid Running® is an innovative, enjoyable way to integrate high-intensity, deep-water running intervals into your fitness routine whether you are an injured runner, an elite athlete, or a beginner just getting in shape. Intervals are set to matching-bpm music, like a spin class, and you can go at your own pace. You don't even have to know how to swim, as participants wear a flotation belt and a tether that attaches to a lane line.
"This is not aqua jogging, old-school pool running, or water aerobics," says Conroyd. "It's a whole new approach that allows virtually anyone to do sprint intervals in the water, and it's so exhilarating, participants call it "addicting"."
The Metropolitan-Chicago YMCA has launched the Fluid Running® program at 9 locations this year, with classes filling up rapidly and 26 new instructors getting certified. Group classes and individual instruction are available in Illinois, Colorado, and California and via Skype.
"As soon as Men's Journal posted the Top 20 Awards, we had a huge surge in interest in our Instructor Certification Workshop being held this April in Carlsbad, CA, " says Conroyd. Spaces are filling up quickly, but the early bird rates are still available.
"This is an amazing opportunity for new instructors to get in on the ground floor as we continue expanding nationally," says Conroyd.
Visit Fluidrunning.com for more information and to find an instructor or class near you. More information about becoming a certified Fluid Running® instructor is available here: http://www.fluidrunning.com/certification/. Follow us on Twitter @FluidRunning.