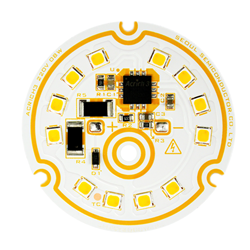 Seoul (PRWEB) March 20, 2015
Seoul Semiconductor (http://www.seoulsemicon.com), a leader in LED technology, on March 19th announced the availability of new Acrich3 modules for a wide range of residential and commercial lighting applications. The new advanced Acrich3 solution from Seoul Semiconductor enables the next generation of Smart-Lighting systems with the ability to interface through a wide variety of wireless networks and sensors. This technology does not require a complex AC/DC converter and can be operated directly from the AC mains, which simplifies designs, reduces component count and improves on the reliability of the luminaire. It also incorporates an analog dimming input as well and an increased compatibility with existing TRIAC dimmers with the ability to do uniform dimming giving lighting designers an easy to implement advanced lighting solution.
The new Acrich3 modules being released today incorporate Seoul Semiconductor's proven and reliable high voltage LED architecture with Acrich MJT series of LEDs. These modules are available in different lumen outputs and form factors to address a wide range of lighting applications from downlights to street and area lighting. Available in 2700K-6500K with CRI options of 70, 80 and 90 these modules offer typical efficiencies of upto 100lm/W with low THD and high power factor.
Kibum Nam, Vice President of Product Development, said "The new Acrich3 modules from Seoul Semiconductor offer a complete solution for smart lighting systems with the Acrich3 IC and MJT LEDs. First launched in 2005 the Acrich technology has provided innovative solutions worldwide to a wide range of applications in the commercial, residential and industrial lighting environments. In the future, Seoul Semiconductor plans introduce more products to further enhance the adoption of the Acrich technology."
You can check more information on the website of Seoul Semiconductor.