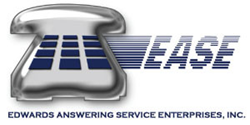 We're open twenty four hours a day, so you don't have to be!
Seattle, WA (PRWEB) March 19, 2015
A unique resource for business owners is now offering live operator services to customers every day of the year. The company is making sure they are open at all times to help ensure the highest level of customer satisfaction as possible. Bottom line is, sometimes it makes more sense to hire a company to answer the phone versus paying employees. Being able to staff around the clock can be extremely costly. EASE gives customers the option to have their phones professionally answered 24/7. One of the key advantages to working with a company offering live, personalized service is that, no matter how complicated a schedule is or how often it changes, it can be kept in perfect order. This helps ensure an incredibly efficient management of time and streamlined inbound call systems to screen calls, do live transfers and even do conference patching.
The skilled and experienced management team utilizes the latest telephone software with hard drive and backup system redundancy to be sure calls never go unanswered. An uninterrupted power supply with a large capacity gas-line fueled generator enables the building to remain fully operational during catastrophic weather and other disasters. Advertising is very expensive, having a great first impression and answering the calls right away every single time is undoubtedly important.
This present-day high standards for excellence in customer service is an extension of the innovative methods employed by Betty Edwards when she started the firm in the early 1950s. At the beginning her business consisted of nine black telephones on her dining room table. Each bell was adjusted for a slightly different tone so she could tell which phone was ringing. As the new answering service grew, she was among the first in her area to use telephone company switchboards; and when the technology became available, she quickly adapted her service to electronic computer equipment.
The way appointments and reservations are handled can make a huge difference in how smoothly businesses such as medical offices, real estate agents, heating and air conditioning repair companies and restaurants operate. If a company already has an appointment system in place, Edwards can help manage that. They can help with calls received outside of regular business hours.
Visitors interested in learning about a property management answering service will appreciate the sophistication of the technology the company incorporates. If there's an appointment or reservation system already in place that allows access, the service can continue managing calls after business hours. There is typically little, to no need to adapt to the service. The center can integrate seamlessly to the system already in place in most cases.
Sometimes the larger organizations can treat their clients like a number, but this progressive, family ran business truly cares about their customers and go the extra mile to ensure total satisfaction. Callers frequently hear the familiar voice of someone already acquainted with their needs, and operators that get to know the business and unique requirements. For more information please visit http://www.edwardsansweringservice.com or call the phone number provided herein.
Contact Information:
Ron Wendus
1-800-606-3273
sales(at)edwardsansweringservice(dot)com